I didn't have the words – Deb Donnell on Christchurch and writing about the earthquakes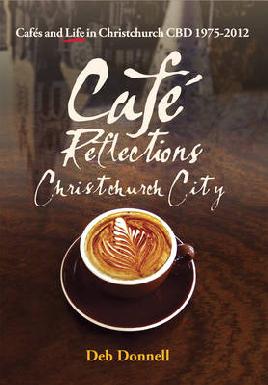 Donna Robertson met author and publisher Deb Donnell in Ello, the new café upstairs at Ballantynes. It is appropriate to mention the meeting place as Deb's book Café reflections on Christchurch City, 1975–2012 is a wonderful tribute to the cafés of Christchurch, and especially how they formed an integral part of the central business district (CBD) community.
She also wrote Responders with Pete Seager, documenting the work of New Zealand volunteer response teams who worked in Christchurch.
Our review of her books is on the blog.
Looking at Christchurch
Your knowledge and appreciation of Christchurch is clear in Café reflections. What are your favourite things about it?

Pre–quake, the CBD community. You could wander into shops and know each other. It was the cafés as well, the café owners. Coffee Culture in High Street was one big family. I was invited to the farewell when they decided not to reopen in the city.

I loved the old buildings. We didn't really appreciate them. I had to keep reminding myself every now and then to look up and appreciate them.

One of the photographers who shares his photos with CHCH EQ photos has a large collection of slides taken by his grandfather. There was one taken the day I was born of the Christchurch Town Hall being built.

You are involved in the CHCH EQ photos Facebook page.

I contributed reasonably early on and was asked to become admin on the page. That was really, really good as it helped me gain confidence within myself and to realise that I do know something about this city. I said in the book that I wanted to leave Christchurch before the earthquakes … Being part of a large online community has made me appreciate being here. I've developed some really good friendships through the CHCH EQ photos page.

Photography also became something to do aside from the writing, or in balance with the writing.

The mysterious basements of Christchurch …

When the responders were going through Christchurch, they were finding basements they didn't know were there. There are a lot of basements. My father remembers them all. When we went into the one under the Triangle Centre (where Donnell Jewellers was) we had to duck our heads – the liquefaction had lifted the floor up a metre. A lot of the basements around the city used to flood. One of the reasons they couldn't keep the Stewart fountain operating was because the pump was in the basement of Hanafins (and it used to flood).
Writing about the earthquakes
How does it feel to be writing about the earthquake? Do you have any suggestions for writers?

After the earthquake, I knew I had to do Café reflections. The trouble was I couldn't write. It was just impossible. I've got something I wrote maybe the day after. I'm sitting out at the Yaldhurst petrol station first thing in the morning queuing to get petrol. I'm spending about an hour in the queue. I'm writing Petrol Queue Reflections, I call it.

It's kind of funny but even then I don't know how to put into words what we've just experienced. Things that were written immediately after the earthquake … are going to be the most accurate. Because as we move away from the earthquake, we rehearse our story and how much of it is a hundred percent truth is hard to know.

I forgot how bad September was until I watched When a city falls. The beautiful opening scene of Christchurch and how lovely it looks. The dark and the noise, it just needed a cowbell in there to have been how it was for me. After February, I couldn't speak to anyone about anything.
I didn't have the words, especially for someone who hadn't been there with me. I talked with Jan (owner of Coffee Culture in High Street) about a week later, they had been in the Links Centre, that's where Joe was (Joe Pohio, Christchurch City Council worker who died in the 22 February 2011 earthquake) … It was really hard talking to anyone who hadn't been in the CBD. Even with family … my niece, Mum, Dad, and I had all been in the store. It changes your perspective on life.

I know as I've talked to more and more people about their stories I've started to piece things together for mine. Writing it is very hard emotionally. Was it healing? I'm not sure. It probably wasn't initially, but eventually it has become healing. One of the pieces of advice I've had from Natalie Goldberg … Just keep writing, even if you are crying, even if it is hurting. The only thing to stop for with first draft raw writing is if something is on fire or if someone is bleeding … I would add in an earthquake now, or maybe not. A 4? Maybe not. A 5, 6 or 7? Yup.

Set a timer. I set half an hour. Keep writing for the whole time. It's like running. The more you write, the more practice you get, the easier it is to sit and write.
Deb's favourite writers
Jennifer Crusie, Anne McCaffrey.
Upcoming projects
Perhaps a book about Shaky Redzone the Kiwi. This toy was discovered outside the Southern Encounter Aquarium. Lots of photos have been taken of him around the Red Zone in the early days.
Find out more about Deb Donnell