Sarah Hall
Hailing from Cumbria, Halls first novel Haweswater was published in 2002 and won the 2003 Commonwealth Writers Prize. Her second novel The electric Michelangelo was short-listed for the 2004 Man Booker prize.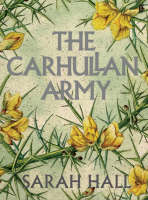 Hall started her creative life as a poet and this is clearly signposted in her first two novels through her use of language and the dreamy, ethereal quality they exhibit. Her latest novel, The Carhullan army, is a radical departure which she herself describes as being "very plot driven, full of action, not the kind of thing I usually write."
Set in an oil depleted future the United Kingdom is controlled by "the Authority" and life has been reduced to a brutal subsidence based existence. It won the John Llewellyn-Rhys memorial Prize for 2007 and has been compared to Margaret Atwood's Handmaids Tale and Orwell's 1984.
Sarah Hall is involved in four festival sessions, a staple festival favourite "Books left on buses", history and the novel, an opening night reading and finally an individual hour long audience.
Search the library catalogue for books by Sarah Hall