Owen Marshall
Owen Marshall is often considered to be among the finest of New Zealand's short story writers. Marshall worked as a teacher for more than 25 years before retiring to write full time.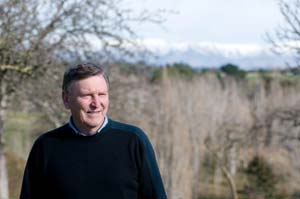 Photo by Liz March
His prolific writing career spans genres. Marshall is an award-winning novelist, short story writer, poet and editor of several collections of New Zealand short stories. In 2000 he became an Officer of the New Zealand Order of Merit (ONZM) for services to literature.
Born in 1941 in the North Island town of Te Kuiti, Marshall grew up with his father, a Methodist minister, who fostered an interest in literature and in reading. With clear memories of being read Kipling and Galsworthy around the kitchen table, a definite enthusiasm for literature began.
Marshall, a self-defined "visual writer", writes work that identifies with small-town New Zealand and often fits into the tradition of realism that is one of the strengths of the New Zealand short story. Marshall's work explores issues that are the core of being human — loneliness, personal philosophy, relationships, and the challenges of life.
Marshall was scheduled to present at the The Press Christchurch Writers Festival 2010. When the event was cancelled, Berinda Joy of Christchurch City Libraries contacted Marshall for an interview instead. He kindly obliged.
We were all disappointed when the Press Christchurch Writers Festival was cancelled. What had you planned to share at your session, "Poetry for Lunch?

I'm disappointed that I didn't get the opportunity to talk to fellow panellists Iggy McGovern, Jessica le Bas, Alison Wong, John O'Connor and Bernadette Hall. Talking to other writers is just as valuable as the chance to read one's work. I had intended to read some short poems from my recently published collection, Sleepwalking In Antarctica.

I had looked forward to your session, Poetry for Lunch, and to hearing you read your poetry — to experience your work in your voice, with your own dynamics, musicality and rhythm. Live. Off the silent written page. When you are writing your poetry, are you writing it to be spoken? Or read? Or is this irrelevant?

I don't consider myself a 'performance poet' and read more poetry than I listen to, but I'm not hung up on the distinction, and a good poem should work both ways it seems to me.

When I worked at a local art gallery, visitors often prefaced their arrival with an almost apologetic, "I don't know anything about art." They felt that they needed to have studied art — or have some type of educated understanding — simply to enter the gallery. The same sometimes applies to poetry. People can be daunted by it. How can poetry be made less daunting? Who is poetry written for?

I think poetry these days is less daunting than before. Free verse and the general relaxation of 'rules' have made it more accessible for many. Coleridge's 'the best words in the best order' is still good advice.

You are in the unique position of being a novelist, poet and short story writer. How does the process differ for each genre? Does it? Is there one genre that you feel most at home with?

Primarily I'm a prose fiction writer. I find writing poetry a more emotional and confessional process than the intellectual activity of fiction.

You have edited Burning Boats: Seventeen New Zealand Short Stories (1994), Letter From Heaven: Sixteen New Zealand Poets (1995), Beethoven's Ears: Eighteen New Zealand Short Stories (1996) and Essential New Zealand Short Stories (2009). These collections offer a sample of works by New Zealand writers — established and emerging. Are there any new voices out in the New Zealand literary world that excite you? That you are looking forward to following in the years to come?

Editing anthologies tends to make me keep up with contemporary New Zealand writing, and also enables me to foreground those writers I believe deserve attention. Emerging writers in particular need that encouragement. Eleanor Catton is an example of a splendid new talent. I first became aware of her when I awarded her first prize in the 2007 Sunday Star Times Short Story Award.

How do you answer the question, "What do you do?"

I say I'm a writer and teacher. I write to better examine and understand the world in which I live.

In 1999 The Press quizzed you and asked you, "What is your most treasured possession?" You answered, "Hope." How do you define hope?

I think I am a realist, but still with a positive attitude about people and possibility in life.

What book(s) went into the building of you? What book(s) wouldn't you be "Owen Marshall" without?

There are so many!! John Cheever, Alice Munro and William Trevor are special favourites among more recent writers.

What are you working on now? Anything on the backburner?

I am working on a historical novel set in New Zealand at the end of the 19th century.

You grew up in an environment where books were valued, where you were read to by your father. Did you use libraries as a child? How do you view and use libraries today? Do libraries find their way into your dreams, writing, daily conversations? Are they travel destinations?

My father had a considerable personal library and I have always used libraries and felt at home in them.

In your 1995 book A Many Coated Man, the protagonist, Aldous Slaven, is from Christchurch. In what ways has Christchurch influenced your writing? What are your reflections of the Garden City?

I attended Canterbury University and visit Christchurch quite often, but much of my work is 'regional' in the sense that it draws from Canterbury and Otago as a whole.
Find out more about Owen Marshall