Me and Greg McGee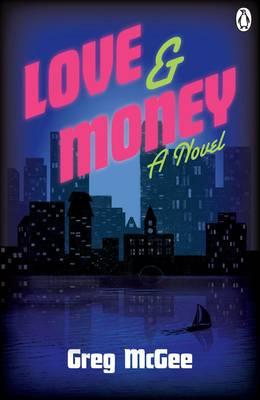 Joyce Fraser interviewed author Greg McGee at the Auckland Writer and Readers Festival 2012.
Greg appeared at the Festival in support of his novel Love and Money. He has also written two excellent crime titles under the pseudonym Alix Bosco and won the inaugural Dame Ngaio Marsh Crime award in 2010.
Set in 1987 Auckland, Love and Money follows Mike, an almost middle-aged actor with a highly complex personal and professional life – both of which are rapidly going down the gurgler. Five interwoven novellas introduce us to Mike and his current squeeze Louise, Mike's ex-partner Liz and her new partner Sean, Sarina, also Mike's ex and Hendrix his eldest child.
Confused? Don't be, once you start reading it all makes wonderful sense.
I asked Greg about the genesis and timeline involved in writing Love and Money.

Love and Money originally started life as a screenplay co-written by Greg and Dean Parker in 1986/87, and from the outset they wanted a dramatic ending with a stock market crash. The producers were dubious; it all just seemed too wildly improbable. Shortly afterwards the crash arrived and the production company exited, itself a victim of the crash!

In 2011 after reading The Slap by Christos Tsolkas, Greg decided to give the 80s another go.

Tsoklas's novel with its multiple and revolving points of view opened the door and allowed Greg to see a way of working the material, proof for him that if you want to be a writer you need to be a reader. The character of Mike is loosely based on New Zealand actor Roy Billing, best known for the part of Aussie Bob in Underbelly and the likeably gormless alien in the TSB Bank ads, and a friend of Greg's from way back.

So, what was Greg up to in 1987 and what was happening in New Zealand?

It turned out Greg was licking his wounds after his play

White Men

closed after a mere three day run. This experience is mined in Love and Money; nothing in a writer's life it seems is ever wasted! The early 1980s were for him a continuation of the 60s sensibility of social experimentation and optimism but the genie well and truly came out of the bottle mid-decade with the advent of Rogernomics and the restructuring of the New Zealand economy.
By 1987, socialism was a dirty word and from Greg's perspective the good times were over and the money-men were taking over. Living in Auckland, Greg also saw first hand the stresses and strains of the new blended family paradigm of the 80s. He witnessed lots of fatherless families and couldn't, and still can't understand men that run away from their children and responsibilities. He wanted, with Love and Money, to give new voice to blended families, and show the hand-to-mouth existence for some of these abandoned children.

And what of Mike who would be 61 or 62 now. Is he still a rootless rooter?

This is a Pandora box that Greg is hesitant to open. On one hand he'd like to re-visit the characters from Love and Money as he tried hard to love them all but he also fears for the fate of Mike and more critically Hendrix, Mike's eldest son, who he left walking on a late adolescent knife-edge. The endings might not be happy ones.

I asked Greg about the challenges of making a living as a writer in New Zealand.

The bottom line, he said, is that books don't make money because New Zealand is such a small market. While there is government support for writers through Creative New Zealand and for screen writing and production through New Zealand on Air, the area for real concern is the publishing industry. Publishers are doing it hard with cook books and sports memoirs subsidising fiction.
New Zealand writers are also, he believes, their own worst enemy using obfuscation and artifice to represent profundity. Greg sees a need for more variety in New Zealand writing and wants critics (and readers!) to wake up to the idea that a readable book with humour can be serious too. He feels comedy and pathos should walk hand-in-hand in every novel.
Greg was also at pains to add that if writers think they have it bad then they should consider the even greater challenge of making a crust as an actor in New Zealand. Likewise he doesn't envy anyone trying to break into script and screenwriting today and is incredibly glad he isn't tasked with writing the script for The GC. Shudder!

Scandinavian crime and Emerald/Tartan Noir etc. have become best-selling and acclaimed crime genres. Could a down-under genre work?

The good news is yes. Greg can imagine a down-under crime sub-genre, and in particular admires the crime writing of two fellow Kiwis, Dunedin based Paddy Richardson, and Paul Thomas who he credits with having revived New Zealand crime with the Ihaka trilogy, and whose humorous and humane writing reminds him of Australian crime writer Peter Temple. Paddy Richardson's titles and now Greg's have been receiving interest from German publishers and if the Bosco novels do well overseas, Greg may be persuaded to write another Anna Markunas title. Although he didn't see Cut and Run initially as a crime title per se, he did always imagine a trilogy as he found the character of Anna so exciting to write.

The link between character and plot is, he believes critical.

Greg quoted Billy, one of the characters from his play Me and Robert McKee, character is destiny, destiny is story. Once he has found the character, the voice, style and tone follows. The best times in writing he said, are when the words tumble out and a little bit of magic happens. Greg needs to write to feel okay, and that assessing the universe inside your head is like taking dictation from your soul, for a writer that is where peace resides.

Greg vividly describes fashion and food in the Alix Bosco titles. I checked to see if he is a committed fashionista and gourmand!

Apparently living in Ponsonby demands knowledge of food and fashion! Writing in a female voice and using a female pseudonym was glorious and gave a new facet to his understanding. Greg added that while he is very much a rugby guy, he has often found himself in the segregated society of the dinner party overhearing the conversation of the female guests and wishing he were part of their more varied and interesting chatter.
He also credits women as retaining their potential for change far longer than their male counterparts. Women of 50 and 60 are often re-creating themselves as writers, artists etc. while men have often lost their ability to re-imagine their lives.

Greg believes everyone has creative potential, as we all of have dreams and flights of fancy.

Professional writers don't have unique insights per se but they do take their ideas, shape them and present them on a public stage.

And what is next for Mr McGee?

Greg is always keen to move on to the next project, which for him currently, is working on the script for a telefeature on the Pitcairn Island sex-abuse trails. He is also working with Richie McCaw on his rugby memoir (due out in time for the Christmas 2012 market). Although shrouded in secrecy, this has been an eye-opening experience for Greg, an ex-All Black trialist and avid past-player of rugby. He believes the professional era is more inclusive – but also brings incredibly high levels of public recognition and associated pressure for the top players.
Interview, May 2012