Poet Karlo Mila to visit Christchurch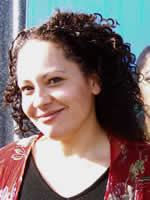 Karlo Mila is of Tongan, Palangi and Samoan descent. Born in Rotorua, she grew up in Palmerston North and now lives and works in Auckland.
Listen to Karlo Mila read her poem Inside us the dead.
Books by Karlo Mila in the library catalogue.
I met with poet Karlo Mila overlooking the Aotea Square markets during the Auckland Writers and Readers Festival. She's heading down to Christchurch for our equivalent knees-up in September to profile her new work, A well written body.
A collaboration with painter Delicia Sampero, the work focuses on the bright and busy city of Auckland, which she once described as a feke – or octopus. I asked her how that idea came about.
"Auckland is an unruly place. It's unmanageable when you try and think about it as a centralised city. When I came to live in Auckland from Taranaki it took me ages and ages to get my head around it. Then I realised that Auckland mostly made sense in terms of suburbs – whole suburbs have their own landscape and feeling about them.

"Octopus Auckland is a poem about my favourite eight Auckland suburbs at the time. I'd thought about the octopus getting its tentacles wrapped around me, leaving 'welts and bites of place and location' on my body.

"The other thing is that the octopus is that it shimmers and changes colour. There's a line in the poem: 'Ever changing migrant colours, trickster of a city'. There are always so many new migrants to Auckland, it's everyone's first stop. Auckland changes faster than the rest of the country."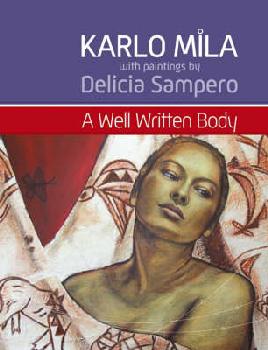 Mila uses several languages in her new collection – English, Tongan, Samoan and Māori, something she says is useful for a poet.
"I'm not particularly fluent in any of those languages, but when you only have a few words, but you know what they mean and you would use them yourself in context because they're the right word to use, it tends to just become woven in in the great big mix. The more words I have to use the better … I'm a bit of a thief, I guess…

"I was just writing exactly what was happening for me at the time, sort of daily bread in a way. There still isn't that much published by Pacific writers."
Mila wanted to write about Tonga and the Royal family after the riots and controversy and the way it was reported in New Zealand media.
"There is one way that Tonga is portrayed in the media: Tsk, Tsk … it's sort of patronising and making fun and a very flat understanding of it. I definitely wanted to bring to the reader a more nuanced understanding of just how complicated and not straightforward things are."
Victory to the people: Nikolasi is born
Life was hectic for Karlo Mila in the weeks leading up to the birth of her second son. She documents this in a poem which details the events in Tonga, calls to concerned friends on both sides of the political divide in Tonga, both in New Zealand and overseas, meetings, protests and drama.
"It was very strange. I was being interviewed by National Radio about what was happening in Tonga from my mother's house in Palmerston North. I've had quite a few pregnant women comment that they really like that poem because life doesn't stop – it carries on in all its fullness. While you're pregnant you've got this huge thing going on internally but life just keeps on going. Especially now – women do so much more than probably they were able to back in the day, so it is frantic, but you've got this frantic little intrusion waiting to become known."
Collaboration with painter Delicia Sampero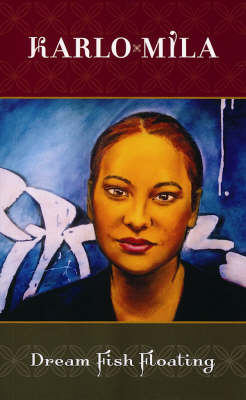 A well written body contains paintings by Delicia Sampero. The collaboration process was a "joy" Mila says, but one that took her in unexpected directions.
"Delicia had painted the cover of my first book (Dream fish floating) so she was the first artists I knocked on the door of. She immediately said 'how about we do a proper collaboration?'

"I gave her a copy of the first manuscript and she went away and painted blue tapou which is the traditional Samoan beauty – butterflies flying from her headress, she's sitting in front of the ocean, the whole of her becomes blue…

"Then I wrote poems – just immediate responding to what Delicia had done. My manuscript came a very long way from that very first time, and also it was shaped by the images she was painting – they ended up being over six metres long.

"The idea was that it had to work as one big landscape, but also there had to be lots of fine detail so we could take shots and put them next to specific poems.

"There were certain things that Delicia really liked. We had a few arguments – I had the same arguments with (editor) Glenn Colquhon as well – but in the end they both won out. I had quite a lot that was going to go in here that was a lot more in your face and direct and contemporary and angry and ra ra ra – those kind of raving sorts – they both managed to tone those down and leave the ones that were more multi-hued."
Creatively the project was good for her, Mila says, but not easy.
"I worked really hard. Whereas the first book it just kind of popped out, this time I put a lot of mahi into it. One of my favourites is Inside us the dead. I really feel like I nailed that one."