Events
Christchurch City Libraries have had a number of events featuring Margaret in the past.
Following the looping line: a one-day symposium exploring the literary legacy of Margaret Mahy.
Sunday 2 July 2006 at Our City O-Tautahi.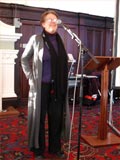 A lively programme of panel discussions, conversations and reader responses will deepen understanding and extend discussion of the work of one of our national treasures. Featuring some of New Zealand's leading writers for children and some of our most notable commentators on children's literature, this challenging, celebratory and entertaining programme provides considered information for teachers, librarians, students and readers.
Portrait Unveiling

Christchurch City Councillor Anna Crighton unveiled a portrait of Margaret Mahy at the Central Library on Monday 18 August 2003.
Find out more about the portrait unveiling
Book Launch
In November 2001 The riddle of the frozen phantom, was launched at Christchurch City Libraries. During the launch Margaret read from the book and also described some of her memorable experiences on the ice.
Find out more about the launch of The riddle of the frozen phantom
Bookgig
In 2001 Christchurch City Libraries and the Christchurch Drama Centre presented a Bookgig based on two of Margaret Mahy's books, A busy day for a good grandmother and The Five Sisters. Scripted by the Drama Centre's director Rosie Belton, the Bookgig was performed by students of the Centre for pupils from local primary schools.