Your favourite New Zealand song 2007
Everyone has a favourite song one they know all the words to, or that they sing all the time. What's your favourite? A catchy radio single or a love song? Tell us your favourite song and you could win one of ten official New Zealand Music Month T-shirts, courtesy of Hallensteins, and a copy of EMI's Christchurch The Music double-CD.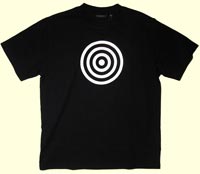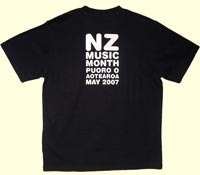 Throughout May, NZ Music Month clothing is on sale at Hallensteins stores. As well as standard t-shirts, there are 2 different kinds of NZ-made limited edition tees, plus hoodies. Hallensteins say both male and female sizes are available.
Winners
We were inundated with entries for our Music month competition. Thanks to everyone who entered, and well done to those who won prizes. Here is a list of the lucky winners of the Christchurch: The Music CDs courtesy of EMI and cool, black New Zealand Music month T-shirts from Hallensteins, and their favourite songs.
Every time I hear it it makes my spine tingle.
It's the earliest and most enjoyable NZ song that I heard whilst growing up in England. I went straight out and bought Kaleidoscope World when I heard it.
The lyrics are so true
I loved the lyrics and the beat so much I named my daughter Victoria.
It's some good NZ rock/punk!
It makes me smile every time I play it
Everytime I listen to it I can get a new feeling or different emotion relevant to my life. When I'm away from home or in a new place, it makes me feel like Im back home in Christchurch with my friends. Home Again and Shihad are what great New Zealand music is all about; it has passion, great lyrics and I would be proud to have this song represent New Zealand to the world.
It's a great song sung by a great Kiwi band.
I am an immigrant, and this song is really touching. Everytime I hear this song, it brings tears to my eyes. Wonderful song, wonderful country.
This is my favourite Kiwi song because it gives you the true New Zealand summer feel while driving along New Brighton or Sumner.
Other lists of interest