Lawrence Arabia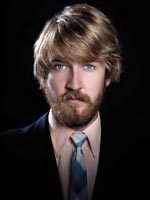 Indie pop artist Lawrence Milne, a.k.a. Lawrence Arabia, was born in Christchurch in 1981. He is a former guitar and bass player of The Brunettes and drummer for the Ruby Suns. He has also toured as bass player for American band Okkervil River and toured Europe with Feist. His music has appeared in film and theatre, including songs that appeared in Taika Waititi's film Eagle vs Shark.
His style has been described as 60s influenced alternative pop and he lists his influences as T Rex, The Beach Boys, The Tall Dwarfs, The Beatles and David Kilgour.
His debut album Dance Reduction Agents was recorded with his group The Reduction Agents in 2006 and was co-released with his first, self named, solo album using Milne's own Honorary Bedouin Records and Lil' Chief. His second album, Chant Darling, was recorded in 2009 in multiple locations around New Zealand, Britain and Europe and received very favourable reviews both here and overseas.
In 2009 he won the APRA Silver Scroll Award (Best Song) for Apple Pie Bed, from the Chant Darling album.
In 2011 he headlined for the official opening of New Zealand Music Month in Christchurch, performing with Silencio and Marlon Williams from Unfaithful Ways at New Brighton Library.
In February 2012, he was working on a new album.
Discography
Websites
Interview
Newspaper articles