Hugh Campbell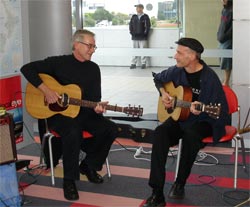 Hugh Campbell (left) and John Hooker (right) playing at a library.
Hugh Campbell and John Hooker are playing at Christchurch City Libraries as part of May's New Zealand Music month.
Hugh answered a few questions about his blues and acoustic music.
How would you describe your style of music?

Fingerstyle

What does NZ music month mean to you?

An opportunity to go out and perform in Christchurch libraries; to celebrate live music.

You've performed at the library as part of New Zealand Music Month what was it like to play at a library

Every library is different; the acoustics, the site where you perform, the expectations of the audience…

Have you written any songs about Christchurch or Canterbury?

No.

Do you think the region / place makes its way into the music if so how?

No.

Are there any other influences on your music?

Everything I listen to.

What's your favourite New Zealand song and why?

"Claude Rains" by The Front Lawn from Songs from the Front Lawn. Beautiful song about a character from one of my favourite movies, Casablanca.

Hugh Campbell (left) and John Hooker (right).

Who's you're favourite NZ artist and why?

Don McGlashan - he's a mega-talented musician.

Do you have a cd/cds available?

Not yet.

Tell us a little about your background your home, your family, non-musical interests and so on…

I've lived in NZ for 21 years; left Scotland in 1979; lived in Newcastle Upon Tyne for 6 years. My wife was offered a job as Paper Conservator in the Robert McDougall Art Gallery in 1985 we came for a two-year working holiday, she now works for Christchurch Art Gallery. Played football for the Dux de Lux soccer club for 20 years, now (probably) retired to work on my terrible golf swing.