Fat Boy & Slim: reviving Edwardian comedy
Fat Boy and Slim performed at Christchurch City Libraries during New Zealand Music Month 2007. Here's how they described their performance: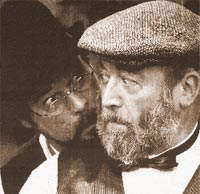 "A great night out!" Yorkshire Post. 1895.
What more is there left to say? Hilarious, witty, excruciatingly funny. Hugely entertaining. Fat Boy & Slim, exponents of fine entertainment, present the music of yesteryear, songs from the Music Halls, cheeky Cockney songs, toe-tapping tunes, plus tonnes of humour and hilarity.
Incorporating quick costume changes, Fat Boy & Slim bring to life a rich parade of characters: Sweeny Todd, Jack The Ripper, The Galloping Major and many, many more.
Dave Hart and John Jones, noticeably opposite in stature, fuse together musically (I beg your pardon?), to bring you bucketloads of fun and will have you rolling in the aisles.
A final word from Queen Victoria: "We are amused!" Balmoral. 1901.
"These performers should go far. Preferably to the colonies" Evening Standard July, 1912