Naomi Ferguson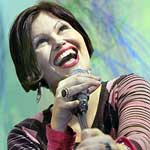 Naomi Ferguson will perform with her band Three of Hearts at 12.30pm on 19 May in City Mall.
View all the New Zealand Music month events at Christchurch City Libraries.
Naomi Ferguson is a Christchurch based singer, actor, composer and teacher.
How would you describe your style of music?

It's lots of different things. A lot of folk and pop influenced by gospel and jazz, which is what I originally trained in.

What does New Zealand Music Month mean to you?

It's a nice way of raising the profile of NZ music within the community. During that time I make sure I play as much original stuff as possible. I also promote it via my band the Three of Hearts.

What's your favourite NZ song and why?

Welcome Home by Dave Dobbyn. It is very beautiful, open-minded, anti-racism song about viewing anyone who is different as a human being. I also love Anchor Me [by Don McGlashan].

Who's your favourite NZ artist and why?

It would have to be Dave again. He is a real poet with his lyrics and I love his style, which includes a bit of folk too. I'm also pretty fond of The Veils.

Who are the biggest influences on your music?

It would be too hard to say just one, but Aretha Franklin, Bob Dylan and Randy Newman would be the biggest three, and before that Sarah Vaughan, Billie Holiday and Anita O'Day were big influences while I was at Jazz School. My most contemporary fave is Jason Mraz.

Tell us a little about your background

I share my life with my partner Alex, who is a musician and a composer, and my two cats. The family I come from is both creative and academic. I take after my grandmother in many ways but I am also following in my dad's footsteps by being a musician and a teacher.

My non-music interests all centre around sensory stimulation — I love sewing, cooking, reading, acting — I have just finished a play called Anne Frank — and I have a Masters in Fine Arts majoring in creative writing. I did the artwork on my second album cover — Don't Think Twice. I also wrote a play last year called Songs My Mother Taught me. It is a one-woman show which incorporates all my performer personalities; singing, acting, writing and playing the piano. It was performed at the NZ Arts Festival.

While I was at CPIT Jazz School I did a double major in vocal performance and arranging and then I went to Wellington to be in a band called Midas Touch and we just did festivals — loads of them! I came back to Christchurch and went to College of Education to be a secondary school music and drama teacher. After that I did an honours year at Canterbury in performance music. I now teach at CPIT, Marian College and from home.

Where to next?

Working on the next album. The important thing is to find really nice places to record. There will be a couple of solo tracks and the focus for the rest will be trying to capture in a recording the vitality of a live performance.
More information about Naomi Ferguson
Our Internet Gateway recommends:
Browse the resources in our libraries:
April 2010