Fire thief - acoustic rockers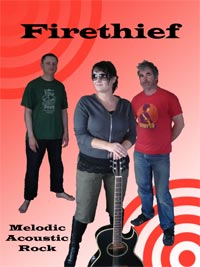 Allan Robertson plays in the three-piece band Fire Thief, who are playing at Christchurch City Libraries as part of May's New Zealand Music Month. Allan says the group are "chuffed to be able to write songs and have places to perform them".
How would you describe your style of music?

Acoustic Rock. Too ballsy for folk music but also not examples of the dreadful pretentious rock ballad.

What does NZ music month mean to you?

If we are brutally honest it means less and less as much of the music we listen to has no boundaries. It is of course great to be able to share our music under any circumstances. It is very hard to find an audience for live acoustic music - especially when the expectation is you will play in bars.

Have you written any songs about Christchurch or Canterbury?

Not specifically as our lyrical content tends to be more kaleidoscopic dealing with feelings and experiences.

Do you think the region / place makes its way into the music - if so how?

In the region I grew up we played American Metal. Or at least attempted it.

Are there any other influences on your music?

If we knew what the influences on our music were we could just make up a recipe. Is it the screech of tyres, the howl of werewolves or was it Max Cryer those many years ago?

What's your favourite New Zealand song and why?

'Out on the Street' by Space Waltz. Why - Why not?

Who's you're favourite NZ artist and why?

Suzy Cato and John Rowles - When will they be performing together?

Do you have a cd available?

Very soon - when the guitar player tunes up.

Tell us a little about your background - your home, your family, non-musical interests and so on…

The weird thing is that when we bumble our way through the music that stuff just fades for a little while.