Jordan Luck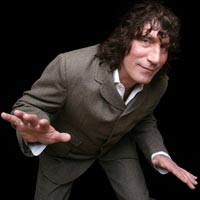 Jordan Luck was born in Canada, moved with his family to Tokarahi, near Oamaru, before settling in Geraldine in 1975, where he joined Geraldine High School as a Year 9 student.
Luck's first band, Basement, was locally based and popular with the youth of South Canterbury. Luck then moved, with guitarist Brian Jones, to Christchurch where they formed The Dance Exponents in 1981, with fellow band members Steve Cowan, David Gent and Michael Harralambi. They were signed to Mushroom Records and recorded a number of catchy, radio friendly hits songs such as Victoria (1982), and I'll Say Goodbye Even Though I'm Blue. They also recorded the song Christchurch (On Cashel Street I wait).
Their first album was Prayers Be Answered (1983), followed by Expectations (1985) and Amplifier (1986).
Luck re-formed the band as The Exponents, and released five further albums - including sing-a-long classic singles such as Who Loves Who the Most, and Why Does Love Do This to Me?
Their albums were Something Beginning With C (1992), Grassy Knoll (1994), Once Bitten, Twice Bitten (a collection of singles, 1995), Better Never Than Late (1997), Hello, Love You, Goodbye (2000) and a best-of compilation, Sex and Agriculture (2006).
Now the band is simply called Luck, and Jordan continues to write, tour and record.
Jordan Luck resources
Our online resources:
Browse the resources in our libraries: