The Topp Twins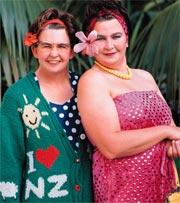 Two of the most colourful performers in the New Zealand entertainment scene, Jools and Lynda Topp, have created some of the most recognisable characters in New Zealand popular culture Camp Mother and Camp Leader and Ken and Ken among them.
In 2009 they released a documentary movie about their careers and are still delighting audiences with their brand of humour and music.
Early years
Jools and Lynda Topp are twins, born in 1958 in Huntly and raised on a Waikato dairy farm. Aged 17, the twins enlisted in the Territorial Army and spent six weeks at Burnham Military Camp just outside Christchurch. The pair decided the army wasn't the career for them and spent two years in the city, playing their fist gig at the Victorian Coffee Lounge for $5 each and "as many toasted sandwiches as we could eat".
The experience paid off, with the pair landing a regular gig in Dunedin before developing a following in Auckland as buskers extraordinaire.
The Topp Twins web site describes the duo's road to popularity:
"The Topp Twins came of age as performers in the early '80s during the heady days of political protesting. They were very much at the forefront of the struggle for anti-apartheid, Nuclear-Free NZ, Maori land rights and the Homosexual Law Reform. As out lesbians since 1977 (when the main press refused to print the word) the Topp Twins have always been visible and proud about their sexual identity. The Twins' ability to relate to all kinds of people, and their gift for humour, has ensured that this is not an issue. One of the unique qualities of the Topp Twins is that they have successfully crossed from the fringes to the mainstream."
The pair's quirky, country and uniquely Kiwi style of performing and their comedy characters have endeared them to audiences of all ages across the country and overseas. They have gone from marginal cafe performers to mainstream television personalities, helping us laugh and sing along the way.
Our Internet Gateway listing:
Browse the resources in our libraries: