Hayley Westenra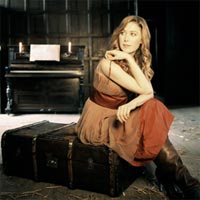 A household name both in New Zealand and overseas, Hayley Dee Westenra was born in Christchurch on 10 April 10 1987. Classical music was played to her in the womb by her mother - not from any desire to create a singing star, but because her mother's research suggested it was good for brain development.
In Hayley Westenra, The World At Her Feet, Paul Little quotes Hayley's mother, Jill as saying:
I read all the pregnancy books from all the libraries around Christchurch. When I finished with the town one, I moved to the suburbs. I read about nutrition. I just wanted to do the best I could.
Hayley was part of McDonald's Young Entertainers, and was a regular busker. Her first album Walking in the Air was a locally-funded effort, and was first played on Plains FM, Christchurch's community radio station. At 13, she had a CD to her name, and at 14 she had a record deal with Universal, and a self-titled album, Hayley Westenra. By 2007 she had sung for the Queen, President Bush and Andrew Lloyd Webber has asked to write for her. She is the youngest ever Unicef ambassador.
Hayley's debut international album Pure went straight in at No.8 in the UK pop album charts and No.1 in the Classical Charts, making her the fastest-selling debut classical artist of all time.
Her album Treasure debuted at No. 1 in the New Zealand album charts, and her official website states that she is the highest-selling classical artist of the twenty-first century.
Since then she has released many successful CDs and pursued a stellar international career, with a short interruption while she dealt with what she refers to as a breakdown. Her latest CD Paradiso was produced with Ennio Morriccone in 2011/12 who comments on her website not only the trueness of her voice, but its increasing maturity and range of emotion.
Hayley Westenra resources