Pandemonium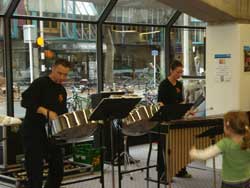 Formed in 1998 in Christchurch, where it is still based, Pandemonium has built a national reputation for innovative and exciting performances.
Musician profiles are available on their website.
As at 2010 its members are:
Roanna Cooper, Brett Painter, Emma Powell, Vicki Price, Jeremy Thin (all percussionists);
Dann Spragg (drummer);
Jason Wilcox (vocalist/guitarist) often performs with them.
Pandemonium's Music
The group describes itself as "world music with a kiwi twist" and has developed a variety of shows:
The World Tour of Percussion, utilizing a large set up of instruments and giving a "tour" of different traditions of percussion music;
Junk Jam, aimed at children and using recycled junk to play on;
an underwater concert using an "in water" percussion rig;
a Samba Band and a Vocal Show.
The group likes to be constantly creating new orchestral sounds and does its own arrangements.
Percussion
Pandemonium uses percussive instruments from all over the world including log drums, marimba, vibraphone, latin percussion, drum kit, West Indian steel drums and bass guitar.
Founding member Brett Painter states his inspiration came from "From Scratch" and "The Front Lawn".
Performances and programmes
Pandemonium has performed at the APRA Silver Scroll Awards ceremony, the International Arts Festival in Wellington, at the Christchurch and Nelson Arts Festivals and at many other sporting and cultural events.
It also runs programmes for school groups. In one of its more interesting events, it performed with the Christchurch Symphony Orchestra. The programme included Malcolm Arnold's "A Grand, Grand Overture" which features three vacuum cleaners and a floor polisher.
Website
Newspaper articles