Te Ara Hou – The New Pathway

A bicultural action plan 2008 – 2010
Treaty Commitment framework for sucessful New Zealand Library services
Download Te Ara Hou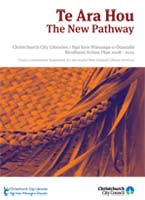 Mihi
E ngā mana, e ngā waka, e ngā hau e wha e te iwi whānui
Tēnā koutou
He mihi whānui atu tēnei nā Ngā Kete Wānanga o Ōtautahi
Tēnā koutou katoa
Ko te tūmanako, kia nui ai ngā hua o tēnei mahi, kia puāwaitia anō te mahi o
'Te Ara Hou' hei kete rauemi mō te iwi whānui katoa.
The spiritual ethos, the canoes, the four winds to all people
Greetings
A very warm welcome from Christchurch City Libraries
Greetings to you all
It is our hope that the fruits of this report will be significant, so that the work of
'Te Ara Hou' can once again flourish as a resource for the iwi.
Whakataki / Introduction
Our new bicultural plan Te Ara Hou is the end result of an extensive review undertaken in 2007/08 of our existing bicultural plan called Ngā Tapuwae Hou signifying New footsteps. Te Ara Hou, the new pathway signifies that the footsteps have extended far enough to describe a pathway and a consolidated direction for further work in this area.
Whakawhiti whakaaro Consultation
Consultation with the following groups was conducted during the review process. This new information assisted us with the development phase of our new bicultural plan, Te Ara Hou.
The external consultation process took place with the following targeted groups.
Students & teachers from private training providers
Mana Whenua, Ngāi Tahu, (5 Marae)
Te Rūnaka ki Ōtautahi
Ngā Maata Waka
Kura Kaupapa (total immersion Māori schools)
Kōhanga Reo (pre school language nests)
Other Kaumātua groups
School, bilingual units
Library Kaumātua, Dr Terry Ryan
Māori Health providers
Māori Library customers
A series of hui were set up to meet with other interested people and invitations were extended to a general public consultation hui at Rehua Marae.
Following on from the external focus groups an internal assessment and evaluation also took place using focus groups of teams within CCC Libraries unit.
Ngā pātai / Questions we asked
A range of practical Library based questions were asked of individuals and groups
What has changed for the better, what have you noticed?
What has changed for the worse, what could we do better?
How can we help you meet your Life Long Learning/Educational needs/targets?
What are we not doing that would impact on your visit to the Library?
Information gleaned from the hui & focus groups resulted in a gaps review and issues paper. A number of key themes emerged.
Policy and Planning: ensure a structured approach to developing Māori Services within Library planning and operation
Capacity and Capability: Increase resources in order to develop capacity and capability of Library staff
Consolidation of Staffing positions: Increase resources allocated to staff training and development in Māori and Treaty issues
Human resources: develop strategies to recruit and retain Māori staff
Evaluation: ensure that all developments are appropriately evaluated
Te Ara Hou / The new pathway
Our new bicultural plan, Te Ara Hou has a dual function. First it is about the future. The intention is to anticipate the directions that the Library should take in order to be relevant to New Zealand society and especially to the needs of Tangata Whenua. It is a model for continuous improvement that can be used to monitor progress and maintain bicultural efforts into the future.
Second, there is a range of projects that will require support and input from team's right across the Library network. The projects incorporate aspects of professional development and learning and, by implication, about seeking the best outcomes for Library customers. While there are obvious implications for Christchurch City Libraries, the rationale for change is not primarily focused on existing structures and systems but on the identification of future learner needs and the construction of pathways that will enable them to be addressed.
Toi te kupu, toi te mana, toi te whenua,
Affirming the knowledge & values of indigenous peoples
in the age of information
Copies of a summary document of Te Ara Hou is available in all of our community libraries.