Interviews with NZ Children's Authors website launch
This website was officially launched at the Centre for the Child on Monday March 18th, as part of the 2002 New Zealand Post Children's Book Festival.
Taking part were a number of local authors as well as children from Christchurch East School who helped put together the authors' questionnaire. The authors commented on their experience of filling out the questionnaire. Some of their responses (including most embarrassing moments) were projected onto a big screen for the edification of the audience.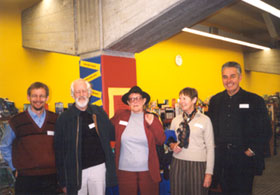 Authors in the photos (left to right): Bill Nagelkerke, Anthony Holcroft, Margaret Mahy, Joanna Orwin, Gavin Bishop.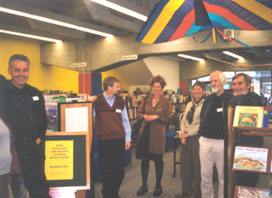 Authors in the photos (left to right): Gavin Bishop, Bill Nagelkerke, Julie Williamson, Joanna Orwin, Anthony Holcroft, James Norcliffe.
Read the media release for this event: Authors inspire children, 21 March 2002.