Woolston Emporium, Christchurch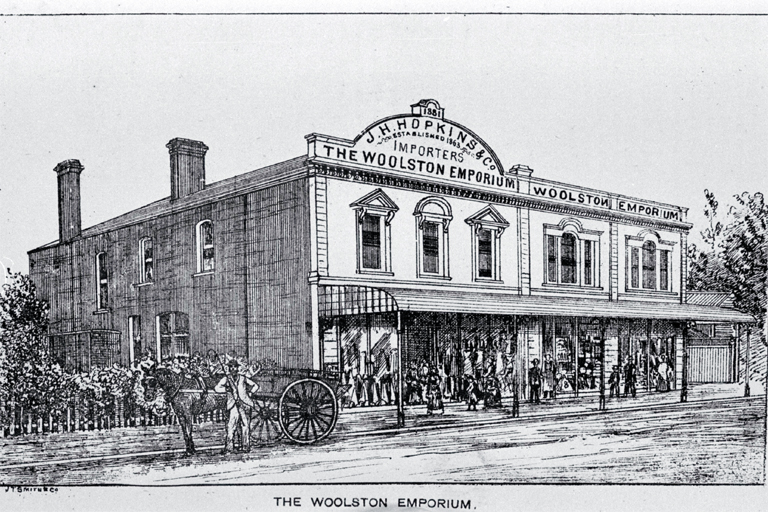 Woolston Emporium, Christchurch
[ca. 1885]

Established in 1863, this business had six departments: drapery, clothing, boots, grocery, crockery, ironmongery, and a corn store. Joseph Harrop Hopkins (1837-1910) was a shopkeeper at Woolston. His name is commemorated in Hopkins Street. He was present at a public meeting in April 1870 concerning the foulness of the Ferry Road Drain. It was there that he suggested that the name Woolston should be adopted for the area rather than Lower Heathcote. Woolston was his home village in England, either in Gloucestershire of Hampshire. The suggestion was adopted. In 1872 Hopkins was involved in an attempt to have tolls removed from the Heathcote bridge so that fishermen would not be penalised when going to Sumner. There was a major controversy in which the shopkeeper crossed swords, unsuccessfully, with prominent Canterbury Provincial Councillor John Ollivier (1812-1893). In the next few years Hopkins attempted, again unsuccessfully, to launch New Brighton as a major seaside resort. He built the New Brighton Hotel which, in 2003, still stands on Seaview Road and had a paddle steamer, the Brighton, which for a time brought picnickers to the beach. Hopkins went bankrupt in 1875. He returned to Woolston and in 1881 re-established his grocery business in a big new Ferry Road building, the Woolston Emporium. He died in 1910 and is buried at Addington Cemetery.
File Reference CCL-KPCD12-IMG0061