Wood, Sinclair & Company's grain mill, Riccarton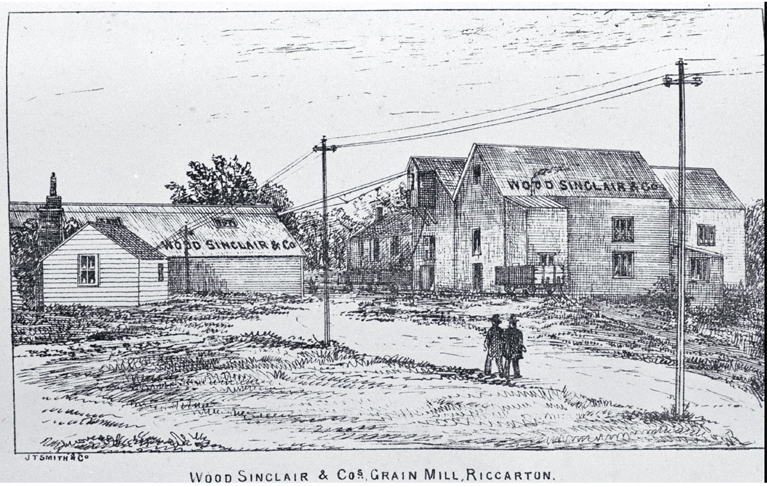 Wood, Sinclair & Company's grain mill, Riccarton
[ca. 1885]

Canterbury pilgrim, William Derisley Wood (1824-1904) established the Riccarton Mills on the banks of the River Avon on the Deans estate near the northern railway in 1860 (where Christchurch Girls' High School was later built). From here a private siding, running over a weighbridge, was laid down to the mill. This made the delivery of grain to the mill easier and the flour produced could be loaded directly into railway trucks. The buildings consisted of the mills with storage accommodation for twelve months' supply, plus a manager's house and offices, and the miller's cottage. By 1880 Wood was joined for a time in partnership by Samuel Sinclair (ca.1848-1904). The mill was now worked by a 6ft. 6in. American turbine water-wheel, giving 40 hp and driving all the necessary machinery for turning out the flour (4500 tons a year). In 1889 the millstones were replaced by steel rollers and the whole operation was transferred to Addington in 1891, although the original mill remained. Richard Allan bought the property in 1895 and re-built it using steam power together with water. Electric motors were introduced in 1915. The mill was now known as the Riccarton Roller Flour Mills, producing a well-known brand of flour, Snowball Flour. Fleming and Co. of Invercargill bought the mill in 1918. Throughout the following decades the main products of the mill were poultry and stock food. Succeeding owners were the Northern Rolling Mill, the General Foods Company and finally Watties Industries. In 1971 the mill was damaged by fire and closed soon after. Demolition was carried out in November 1974, ready for the new Christchurch Girls' High School, this despite pleas from Wood's descendants asking that the original mill be spared in the belief that it was the oldest surviving water-mill in New Zealand. No trace remains except for the weir which can be seen (and heard) from the rear of the Mormon Church in Fendalton Road.
File Reference CCL-KPCD12-IMG0068