Central Library / Te Kete Wānanga o Ōtākaro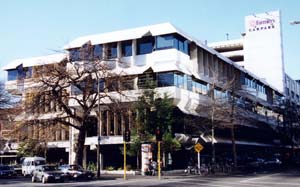 This library is closed until further notice
Christchurch City Council has received a detailed engineering evaluation of the Central Library in Gloucester Street following the February and June earthquakes.
The report shows the building performed well and is not an earthquake risk. There is some non-structural damage to the building, such as cracking, including the floor slab on the library's ground floor. A number of other buildings near the library are also damaged and awaiting demolition or further assessment. There is currently no timeline for those demolitions.
Temporary Central Libraries
Central Library Peterborough opened in December 2011 at 87-91 Peterborough Street in Central Christchurch (see map to the right).
Central Library Tuam opened on Monday 23 July 2012 at 121 Tuam St.
Central Library retrieval of stock
The media has been covering the retrieval of books and other items from the Central Library which began on Monday 19 March 2012. Here are some of the articles:
History of the Central Library at Gloucester Street