Parker – Hulme Murder Case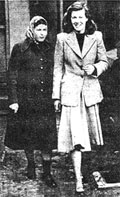 Pauline Parker, 16, and Juliet Hulme, 15, were found guilty of killing Pauline's mother Honora Mary Parker with a brick in a sock. The murder took place on 22 June 1954. The jury rejected a plea by the defence that the girls were not guilty on the grounds of insanity.
Digitised content
This information comes from Christchurch newspapers at the time of the trial and articles written since. Some of the coverage is available as transcripts from the articles and PDFs of the newspaper. The transcripts are easier to read and faster to download but the PDFs retain the look of the original. Articles that have not been transcribed are available only as PDFs. Articles written after 1954 are only available in transcript form.
We have included a list of other resources.
News coverage of the Trial
Download the above trial reports, as a single file [8.8MB PDF].
Later coverage
'New Zealand girl murderers', Rupert Furneaux,

Famous criminal cases V.2

, London:Wingate, 1955. p.32-49
'Death in a cathedral city', Thomas Stuart Gurr and H. H. Cox,

Famous Australasian Crimes

, London: Muller, c1957. p.148-167.
'Separation threat trigger for a brick attack', Neil Clarkson, The Press, 17 June 1989, p.23.
'Murder without remorse', Press Weekend, 5 October 1991, p.5.
'Solved: Hulme's greatest secret', Press Weekend, 6 August 1994, p.3-4.
'Hulme describes teenage plot to kill friends mother', The Press, 20 September 1994, p.3.
Related resources