Heritage Week: 22 June - 1 July 2007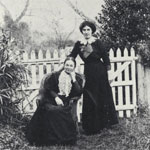 Heritage Week is an annual event, core funded by the Christchurch City Council, with support from local sponsors including new principal sponsor for 2007 Beca.
Richard L. N. Greenaway's Spirited Cemetery Tours
Hear tales of the notable and the notorious from Christchurch's past!
Bring a torch for the evening tours. Tours cancelled if wet. Free, no bookings required. Not suitable for young children.
For more information phone Christchurch City Libraries at 03 941 7923.
Introduction to the Family History Resources in the Aotearoa New Zealand Centre
Guided tours will introduce you to the many and varied family history resources of the Aotearoa New Zealand Centre, Central Library. The one hour tours will take place at the following times:
Monday 25 June: 10:00 am and 2:00 pm
Wednesday 27 June: 10:00 am and 2:00 pm
Friday 29 June: 10:00 am and 2:00 pm
Free, no bookings required
For more information phone Christchurch City Libraries at 941 7923
Previous Heritage Weeks