Quilt Display - October 2003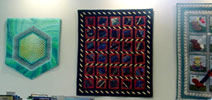 1. Ice-Brink Antarctica - Annette Wilde Baxendell
The labyrinth symbolizes the search, the journey.  Here it embraces the voyages of exploration, the scientific research carried on in Antarctica, and our own personal search for truth.  Turquoise is far from my favourite colour, but when I first looked into a glacier I realized it is the true colour of ice. Ice-brink is the glow of the sky which tells a ship that there is pack-ice near.
2. It Happened On A Sunday - Dorothy Leadbeater
It began with a bag of blue scraps, none big enough to use for patchwork pieces but I was reluctant to throw them out.  Sewed them together in strips, cut into 6" squares then made more interesting by surrounding each square to give continuity.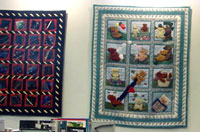 Own design - machine pieced - machine quilted
3. The Teddy Bear's Picnic - Kathleen Burford
Inspiration came from children's story books, I wanted to create fur fabric bears taking part in a diverse range of picnic activities.
(the pattern is available for this quit)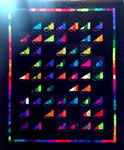 4. The Many Mice of Mr Bryce - Adele van Soest & Friends
A 'friendship quilt' the blocks for which were made by members of the Quilters Dozen friendship group.  The multi-coloured mice proved to be a good way to use up most of my scrapes of bright-coloured silk fabric.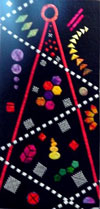 5. Keeping in Shape - Dorothy Leadbeater
Getting my grandchildren to name the various geometric shapes on the computer screen led to a design incorporating these shapes and angles.
Own design - hand pieced - hand quilted
6. Log Cabin Improvisation - Annette Wilde Baxendell
This was inspired by the work of quilt artist Nancy Crow.  I had just begun hand-dying and was excited by its possibilities.
7. Baby Bows - Annette Wilde Baxendell
I like making quilts for babies.  Will they be loved to bits or become someone's treasured bit of family history?
8. Labyrinth Colour Gradation I - Annette Wilde Baxendell
I was intrigued with the labyrinth and combined it with gradual colour changes which have surprising effects.  I hand-dyed 15 different shades of indigo.

9. Out of Africa - Kathleen Burford
Many of the fabrics and Batik panels were purchased in Africa when we were on Safari there.
10. Sisha Sansi - Symphony of the Soul - Adele van Soest
A celebration of colour and fabric.
11. Radiant 9 Patch - Adele van Soest
Started in a class with Anne Groufsky, this quilt was my opportunity to experiment relative values of my favourite colour, blue.

12. Beatrix Potter's Watercolours - Kathleen Burford
Inspired by the wonderful books of Beatrix Potter, the characters have been made in silk fabrics.
13. Blue Beauty - Adele van Soest & Friends
I love blue and especially blue and white.  I started this "Round Robin" quilt by making the centre block which was then passed onto friends who each added a border.  I had no idea what was being added until the final border was completed but I was delighted with the result.
14. An English County Garden - Kathleen Burford
Using more Liberty fabrics, this qulit was made over a period of three years as I hand stitched the hexagons during many overseas holidays.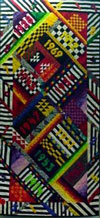 15. The Last C - Dorothy Leadbeater
1912 Sinking of the 'Titanic'
1914 World War I
1928 First flight over the South Pole
1931 Napier earthquake
1945 End of World War II
1953 Conquering of Everest
         Coronation of Queen Elizabeth II
         Tangiwai Disaster
1954 Discovery of Salk vaccine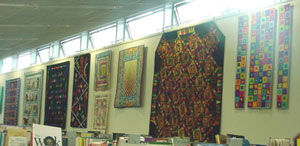 1967 Decimal currency in New Zealand
1969 First man lands on the Moon
16. Ice-crystal Jewels - Kathleen Burford
Black satin, silver lamé, and organza, decorated with be beads, makes this quilt look like ice-crystals.