Library Events 2003
Careers Breakfast
A group of 30 High School career advisors visited Central City Library at the end of February to learn about career opportunities offered by Christchurch City Libraries.
Mobile Library refurbishment, June 2003
Linwood Library's 10th Birthday - December 2003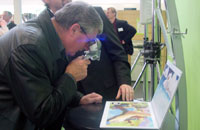 eyeMagic - the future of reading? 26 November, 2003
South Library Quilt display, 1 - 13 October 2003
South Christchurch Library Opening, 23 August 2003
Portrait of Margaret Mahy by Glenda Randerson unveiled at Central City Library.
Library Week 2003
Library week was 11 - 17 August and the theme was "Libraries Add Colour".
Story Tram
Story Trams are run as part of Christchurch City Libraries' celebration of the New Zealand Post Children's Book Festival.
Seaweek 2003
New Brighton Library ran some fascinating activities associated with Seaweek during the second week of March.
Reading Crusade
The Canterbury Crusaders have joined forces with the library to encourage kids into reading.
Marketing
Papers and reports