Spring into learning during Adult Learners' Week - 4 to 10 September 2006
It's Adult Learners' Week from Monday 4 to Sunday 10 September, celebrating the efforts, achievements and contributions of adult learners, educators and training providers.
Christchurch City Libraries has a range of free activities running during the week at our three learning centres across the city, giving you the chance to see our cutting-edge facilities and find out more about what the centres have to offer.
Also see our Learning section for more information on our learning services.
Adult Learners' Week activities at Christchurch City Libraries:
Tuesday 5 September

Tuesday 5 September

Wednesday 6 September

Wednesday 6 September

Wednesday 6 September

Wednesday 6 September

Thursday 7 September

Thursday 7 September

Friday 8 September

Saturday 9 September
Trouble with Words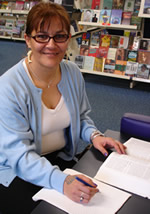 You may have seen one of our libraries, Hornby, featured in TV One's Exposé documentary Trouble with Words on Monday 28 August. The programme focused on the struggle of the one in five adult New Zealanders who can't read and write well enough to cope even with basic forms and bus timetables. In the programme, Jude Howie, one of the two adults featured, encourages her daughter Renee to use the library, helped by one of our librarians.
Jude left school at 16, unable to write her own name confidently. As a single mother in her twenties and unable to even get a factory job, she eventually took up a friend's suggestion of escort work as a way to make ends meet. Finally, Jude realised she had to make a choice. She gave up escorting and started to develop her reading and writing skills. With the help and support of her literacy tutor, Jude successfully applied for a job with NZ Care and now works weekends in a group home for people with intellectual disabilities. She also chairs a volunteer organisation for solo mothers, is a netball coach and is working to further improve her literacy to support the learning of her two youngest children.