2006 Events and Promotions
Marketing
No Ordinary Flowergirl
Book launch at Linwood Library, October 7th 2006
The Undercovers
The Undercovers are our September holidays promotion for kids.
Parklands Library 1st Birthday: 7th 12th August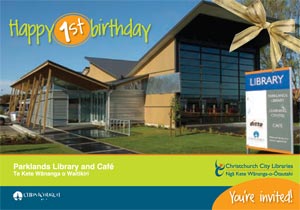 Christchurch City Libraries: a citywide network of libraries contributing to Christchurch City's community outcomes
Eels and Wheels: Parklands / Waitikiri Boutique Library Christchurch
Upper Riccarton Library Opening: January / February 2006
Planning documents, construction photos and opening photos
Design a bookmark competition
Christchurch City Libraries is delighted with the entries in our recent 'Design a bookmark' competition. See the winning entries here.


Gala Advertisement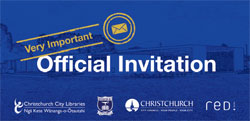 Invitation to the Opening Gala
Headstart children's programme
Programme ended early in 2006 - see a gallery of images from the Headstart programme
New hours bookmark

New Brighton Postcard