2006 Competitions
These competitions are over:
Book Launch Colouring Competition
No Ordinary Flowergirl by Marlene Bennetts, illustrated by Trish Bowles.
Colouring Competition: Hand in at Linwood Library by 11am October 7th.
The Undercovers Competition
Write at least 200 words about The Undercovers and email or post them to us. We want to know more about what they like and don't like, what they read, listen to or like to watch. How do you think they met each other? What's Megan's favourite song at the moment and why? What's Jack reading right now and why? What's Sam's favourite website and why? It's up to you what you write about, as long as it tells us more about The Undercovers. You could win a Playstation Portable.
Closed Monday 16th October.
Main prize winner: Sony Playstation Portable plus 2 games - LocoRoco and Formula 1 Zoe Mackay
Book prizes
6 & 7 years: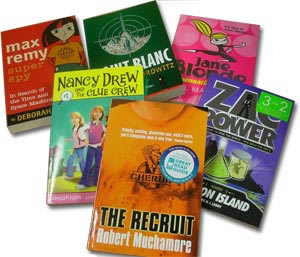 8 & 9 years:
10 - 12 years:
What's Your Favourite?
The Press Christchurch Writers' Festival 2006 ran from 8 to 10 September. As part of the Festival, Christchurch City Libraries is proud to have supported 'What's Your Favourite', the search for Canterbury's favourite book of all-time. Winning books and competition winners are now on the 2006 festival page.
Music Month May a big success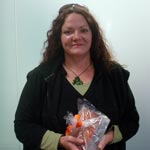 This year's New Zealand Music Month has proved a winner yet again with our customers.
Thank you to all our library teams for the effort that went into organising performances. We received just over 2,800 entries for our iPod and Kiwi CD competition. The winners were:
Helen Beswick, Noeline Neho, Carol Doorman, Mark Owen each has won a pack of 5 Kiwi music CDs
Polly Ott won the 30GB iPod©
Congratulations to the our winners and thanks again to our teams.
Culture Galore jellybean competition
At Culture Galore on Saturday 18th March 2006, the library ran a "Guess how many jellybeans are there in the jar" competition.
The jellybeans have been counted and the winning entry belongs to Olivia Dow. The total number of jellybeans was 1093.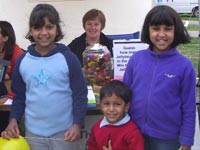 Upper Riccarton bookmark design
Christchurch City Libraries is delighted with the entries in our 'Design a bookmark' competition, March 2006.
Keeping in touch with email winner
Congratulations to Karen Atherton, the winner of our 'Keeping in touch with email' competition, pictured here (on the left) with Marketing Assistant, Vicky Heward.
Karen moved to Christchurch two years ago with her husband from San Francisco. The couple wanted a major positive lifestyle change and a good library system was essential for any new residence. They haven't been disappointed. Karen's closest library is South Christchurch but she made a trip to Central Library to collect her prize of an iPod Shuffle and bag of library goodies.