Holiday Programmes 2006
For the September - October holidays kids can meet our new library gang The Undercovers and pick up cool Undercovers magnets and bookmarks and even win a Playstation Portable (PSP) just by telling us more about The Undercovers. Competition closes 16th October.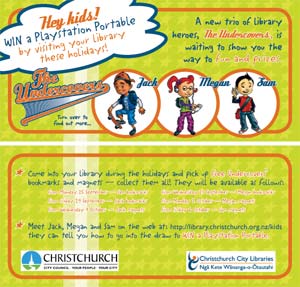 Also these holidays
Saturday October 7: Book Launch
No Ordinary Flowergirl by Marlene Bennetts, illustrated by Trish Bowles
Saturday October 7 (last Saturday of the school holidays) 11 11.45am at Linwood Library
Hand in at Linwood Library by 11am October 7th
Book reading by the Author
Join-in Colouring exercise with the Illustrator (materials provided)
Dress as no ordinary flowergirl if you like, we would love you to - you may win a copy of the book
Spot prizes will be given out during the event
Children's Bookshop will have the book for sale in the library
Other places to look for things to do over the holidays
Previous holiday programmes
Summertime 2005 - 2006 Reading Club Winners
Bishopdale: Daniel McIntosh
Central: Shou Nisbet
Fendalton: Zoe Mitchell
Halswell: Olivia Kinley
Hornby: John Evans
Linwood: George Wells
Mobile: Anna O'Donnell
New Brighton: Nicki Lee Odering
Papanui: Bella Tweedy

Parklands: Jeffrey Greenwood
Redwood: Connor Thompson
Shirley: Olivia Winn
South Christchurch: Matthew Macowan
Spreydon: Alexandra Albertson-Maino
Sumner: Ella Hawthorne
Upper Riccarton: Vanessa McLoughlin
23rd September - 9 October 2005: Book Buzz.
Simply choose one of your favourite books and tell us What its called, Who wrote it and most of all Why do you like it. We'll publish your responses on our web site and you can read what other kids like. This is an ongoing programme.
April 16 – May 1 2005
Design a cover for Harry Potter #6: Harry Potter and the Half-Blood Prince. See the top three entries from each library in our cover gallery.