2006 Posters
A selection of our posters for 2006. Each image is linked to a pdf of the full poster.
December: Undercovers' Summer Reading Club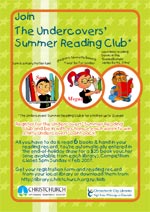 Saturday 28 October: Donovan Bixley
Will be discussing and reading his novel Faithfully Mozart: The Fantastical World of Wolfgang Amadeus Mozart. 2006 Illustrative Finalist in the Montana New Zealand Book Awards. A tribute to Mozart, the man behind the music. A colourful life of highs and lows is described through sumptuous drawings and paintings, accompanied by text based on the composers original letters.
11.00am - 12.00pm, Central Library - Popular Centre
No Ordinary Flowergirl
Book launch at Linwood Library, October 7th 2006
September holidays' promotion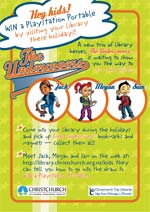 New Fiction Poster