Neighbourhood Week
The heart of your neighbourhood.
Christchurch City Council's Neighbourhood Week runs from Saturday 28 October to Sunday 5 November 2006. It's all about getting to know the people who live close to you and there's no better place than your local library.
Our libraries are a great place to meet friends and neighbours. Spend time at the library with family or friends, take part in one of our events or activities, share a conversation over coffee in one of our cafes, or talk to our staff if you need help or ideas to get more from your visit. If you're visiting on your own, the library can be a great place to strike up a conversation with someone who shares the same interests as you, from your neighbourhood.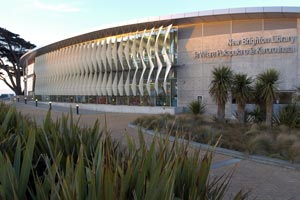 Christchurch City Libraries has 19 libraries, stretching from Redwood in the north to Akaroa in the south. Our 20th library is on wheels, visiting neighbourhoods across the city without their own library. Of course, we've got lots of books well over million of them - but there are also lots of other reasons to visit one of our libraries:
If you're reading this page sitting at a PC in the library, you may already know about the range of things you can do at your local library - but if you're at home or work, see our map to find your nearest library and read more about all of our collections.
The Council is supporting a range of Neighbourhood Week activities across the city. Find out more about them online, or call 03 941 8999.