The end of a Crusade
Hamish Riach, Crusaders Chief Executive Officer was officially thanked by Christchurch City Libraries on behalf of the 11,000 children who read 64,000 books to make this year's Reading Crusade a success. Bill Nagelkerke, Children's and Young Adult Services Coordinator, and Pat Street, Programmes and Learning Manager presented Hamish with a framed 'thank you'.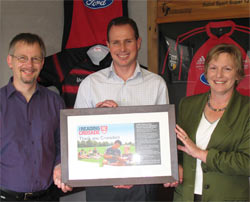 Upon receiving the gift, Hamish stated that he was proud of the Crusaders/ Christchurch City Libraries relationship and that he looks forward to the next campaign. Thanks to the librarians, teachers, parents and children involved in this year's Reading Crusade.
29 August 2007
The Reading Crusade is Over!
Thousands of Reading Crusade entries from all over the Crusaders Franchise have arrived at Christchurch City Libraries. Well done everyone for reading six (and in some case, a lot more) books during the time of the Reading Crusade. We hope you've enjoyed your reading.
We have drawn the winners of the fifty Reading Crusade prize packs. All fifty will be invited to the prize presentation at Jade Stadium. Seven of these winners will also be attending a special training session at Jade Stadium and having lunch with the Crusaders!
Everyone who entered the Reading Crusade will receive a certificate printed with the signatures of the Crusaders. These certificates will be posted to schools, so if you don't receive one check with your teacher first.
Homeschoolers - If you entered the Reading Crusade and did not receive a Certificate it was because we didn't have your address. Please contact the library with your address details and we will mail a Certificate out to you.
This year's Crusade ran from Wednesday 7 March to Monday 23 April.
See the full details of prizes and the Reading Crusade rules.
More things to do
Check out what happened in the 2005 Reading Crusade and 2003 Reading Crusade.
Join the latest Reading Crusade.