Analyses and Background Information to Strategic Directions for the Canterbury Public Library 1997 - 2007
November 1997
External Analysis: summaries
Internal Analysis: summaries
The Process
Library alive in our community is a living document which will be used as a framework for the Library's annual planning cycle. More details about how the strategic directions set in 1997 will be achieved is outlined in each annual plan, commencing with the 1998/1999 plan.
Performance measures, to enable monitoring of the achievement of the Library's strategic directions, will be carried through the annual planning process. These include the continuation of the Christchurch City Council's Annual Residents Survey and research and sampling to determine customer satisfaction. The Library's outputs will be revised for the 1998/1999 year.
The directions set out in Library alive in our community will permeate throughout the Library as an organisation, including individual and team targets.
The 1997/1998 annual plan was tested against the strategic directions framework to confirm the priorities for the current year.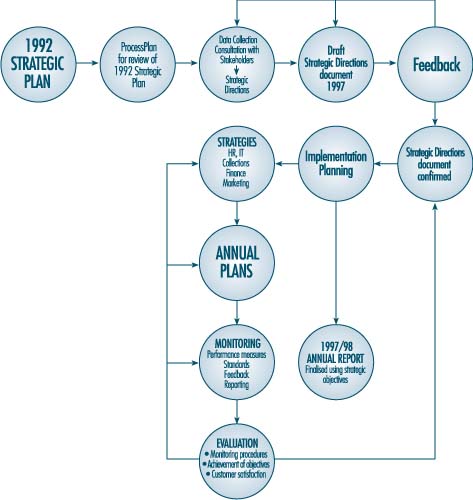 Process outline for development and implementation of Strategic Directions
Stakeholders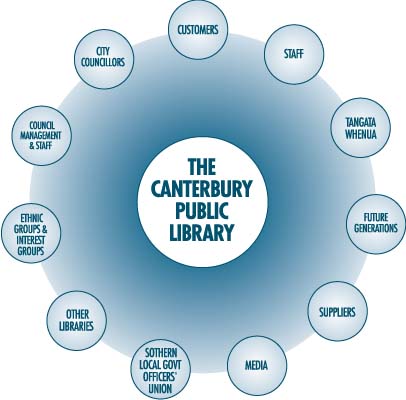 Customers
The diverse range of customers that use the Library's network need assurance that services are delivered professionally, effectively and efficiently using the given resources and funding.
Their influence upon the Library's service delivery is essential for the maintenance of the organisation's customer focus and can be high at times, such as when service levels are reviewed or specific, local issues emerge.
City Councillors
The elected Councillors represent the ratepayers of the City. They play a crucial role in the setting of overall policy and allocation of funding of Library commitments and future projects. The delivery of high-quality services within budget and with defined outputs is essential to maintain their support for the Library.
Staff
The successful implementation of the Library's strategic directions is dependent on the skills, creativity, participation and co-operation of all staff.
Staff require knowledge and understanding of the Library's purpose and direction, and training and development in order to participate fully in its operations. They can expect a safe and supportive workplace. Network wide teams ensure quality management of service delivery.
Council Management and Staff
The Corporate Team and Unit Managers provide valued collegial support and advocacy for the Library's own management. The Library needs to ensure that its strategic directions are in alignment with, and contribute to, those of the City Council as a whole. A growing number of City Council staff use the Library for research and provision of information and documentation across many areas of Council operations. They expect prompt, efficient delivery of their information requests, preferably supplied by a known Library staff member.
Tangata Whenua
By consulting with Tangata Whenua, the Library can work in partnership to ensure that the principles of the Treaty of Waitangi are applied and expressed through the Library organisation. For local Māori, the Library should be central to the preservation of Māori resources, Te Reo and taha Māori.
Ethnic Groups and Interest Groups
The Library welcomes input from community groups with specific needs or interests.
The Library respects the collective responses that they can make on Library policies and procedures.
Future Generations
Future generations will require access to the knowledge and culture of our present and past. Good stewardship and long term planning will ensure that facilities, collections and other resources are available for our children's children. It is in the public interest to ensure that these benefits are preserved for future generations.
Other Libraries
The Library enjoys good collegial support from other Christchurch libraries. Many of the Library's customers also use other local libraries. By collaborating and working together with these libraries, resource sharing and ongoing communication to maximise our individual and shared responsibilities is possible.
Suppliers
Organisations who supply goods and services to the Library expect it to effectively manage its operation using accepted management and accounting principles. To be responsive to the Library's needs, and suggest and introduce new developments, suppliers must understand the nature of the Library's business.
Southern Local Government Officers' Union
Almost all Library staff are members of this Union. A good relationship between Library management, staff and Union representatives is maintained by ongoing open communication.
Media
The local media (primarily print and radio) are keen contributors to, and avenues for, discussion of local government issues including the Library. They can assist by generating interest in, and support for, Library and information issues. Media interest can have either a positive or negative impact on Library issues.
Mandates
It is important in any planning process to identify any parameters or mandates within which the organisation must operate. The Library must operate within the following mandates.
Local Government Act 1974 and its Amendments
Specific provisions relating to libraries are limited. Clause S.601(4) states that "The council may make such charges as it thinks fit for any services, facilities, or equipment provided pursuant to this section, subject in the case of a library to the following provisions:
(a) The right to join the library shall be open to the residents of the district free of charge; but
(b) The council may by resolution make charges for lending books, sound recordings, video recordings, films, paintings or prints out of any library under its control".
In addition the provisions of the Local Government Amendment Act no 3 1996, which detail how a council will determine its funding policies and practices, impacts on the Library, as it does all council operations. The Council has undertaken a Revenue Study and has determined the component of direct and general benefit as it relates to libraries. This is to be subject to a public consultation process in late 1997.
Building Enhancements Programme
At one of the first Visionary Projects seminars in 1993 the Council identified a number of parameters that the projects should meet. The proposed building programme for library and information services meet 99% of the criteria as follows:
Geographical balance
Serving all age groups in a direct way
Meeting the Council's people objectives
Something for everyone
Enhancing quality of life
Enhancing lifelong educational and recreational opportunities
Contributing to skilling and reskilling the labour force
Contributing to economic development
The programme commenced with the opening of the Linwood Library in December 1993 and since that time the Council has built or extended the following libraries: Papanui, Shirley, Halswell.
In addition the Central Library has been extended and refurbishment was completed in October 1997. The programme, which has been adopted by the Council, has the following buildings to be completed in the financial year indicated:
Spreydon 1997/98
St Martins 2000/01
Fendalton 1998/99
Upper Riccarton/Avonhead 2001/02
New Brighton 1999/2000
Parklands 2002/03
Financial Parameters
The Library is required to operate within the Council's financial planning and control parameters in setting the annual budget. Expenditure is to occur in the year in which it is budgeted and new initiatives must be separately identified.
Council Mandates
The Library operates within the Council's policy framework, and Council's stated strategic objectives which are subject to review. This includes the Council's commitment to upholding the principles of the Treaty of Waitangi as they are applied to the policy, procedures and operations of the Council. The political environment is subject to change every three years.
Organisational Mandates
The Library operates within the principles of Giving Value Being Valued.
Almost all staff are employed under the terms and conditions of the Salaried Staff Collective Employment Contract and the Library is required to operate within its parameters or to negotiate changes with staff and their bargaining agent, the Southern Local Government Officers' Union.
The Trades Collective Employment Contract and the Outsides Staff Collective Contract also apply.
External Analysis: Environment
Data was compiled and collated primarily from the Department of Statistics1 and the Environmental Policy and Planning Unit of the Christchurch City Council.2 Key sources used were the 1996 Census, the 1991 Census and material from the City Council's annual City Update publication.
Three trends in population were of greatest significance to the Library's future development:
Over time there will be an increase in the number of elderly people in the community.
Overall there will be an increase in Christchurch's population which the Library can address by sustaining increasing business at existing service points and/or developing new service points to accommodate increasing business.
The marked increase in migrant Asian population in Christchurch will require specific service responses by the Library.
Population Growth
Between 1991 and 1996 the City's resident population has increased by 6.9 percent (to 309,028 people). This population growth was largely the result of increases in overseas migration, including departing and returning New Zealand citizens and higher net migration from other parts of the country. Latest projections suggest the population will continue to grow over the next two decades. Lower natural increase and net migration will lead to progressively slower population growth in the future. Building consent information suggests that significant population growth has occurred on the fringes of the City. In the past five years all Christchurch's neighbouring districts (Waimakariri (16 percent), Banks Peninsula (8.5 percent) and Selwyn (16.2 percent)) have experienced significant growth.
The City Council's policy of encouraging urban consolidation means an expected increase in population density in many suburbs as a result of infill housing and redevelopment of existing sites.
This includes a ring of inner city areas plus focal points such as the New Brighton and Papanui shopping centres. It is expected that re-zoning in the new City Plan will result in significant population growth in the northeast suburbs of Mairehau and Burwood.
Key reasons for population change
Net migration rather than natural increase has been the major cause of the City's recent population expansion.
Total fertility rates are again declining after a temporary resurgence during the late 1980s and early 1990s.
Lower fertility will lead to progressively fewer children in the City's population next century.
Lower mortality at late-working and retirement ages in addition to a reduction in mortality at younger age groups has lead to a general improvement in life expectancy.
Increases in life expectancy and the movement of the large baby boom generation into retirement ages means there will be more elderly people living in Christchurch in the future.
While the majority of population movement is within the City, there are significant flows of residents to and from other parts of New Zealand.
Although the rate of growth has slowed during the past year, net migration to Christchurch still remains high.
Families with young children, and young adults make up the two largest groups arriving in the City in recent years. Between 1991 and 1996, 38 percent of arrivals to the City were aged 25-39 years and 19 percent were children aged 0 -14 years indicating a high proportion of families. More than one quarter of arrivals were aged 15-24 years, reflecting the growing number of overseas students attending Christchurch's secondary schools and tertiary institutions.
In recent years, the largest net gain to the City from external migration has been from Malaysia (1,584 people) followed by Japan (1,359 people), Taiwan (1,109 people) and Korea (1,038 people).
Education
There are currently 153 primary and secondary schools and four major tertiary institutions in Christchurch. Around 51,000 pupils attended primary and secondary schools in 1996 while close to 23,200 pupils were enrolled in the City's four major tertiary institutions during the 1995 academic year.
The general level of educational attainment in Christchurch appears to be very similar to that of the rest of New Zealand.
Households
The expectation that household numbers will increase at a higher rate than population growth has implications for the overall growth and form of the City. It also suggests that the existing housing stock may not necessarily meet the demands of residents in the future who may be looking for smaller properties with fewer bedrooms. This may be particularly relevant for the growing number of elderly in the City.
Housing Provision
At March 1996 there were 116,621 occupied dwellings in Christchurch. This was an 8.3 percent increase since 1991. Projections suggest there will be around 140,000 households in the City by 2016. The most significant housing trend to emerge in recent years has been the rapid growth in the construction of units or apartments within the City. The overall growth in the number of units in recent years reflects the general trend towards smaller households and the older age structure of the City's population. This shift also appears to be driven by an increasing demand for a particular lifestyle, often associated with inner city living. A recent study has shown that the provision of land for urban development, in existing and proposed district plans for Christchurch and neighbouring authorities, is inadequate to meet projected needs over the next 10 to 15 years.
Business
The local economy is estimated to have grown by 19 percent in the four years to March 1996. Christchurch's Gross Regional Product for the year to March 1996 grew by 1.8 percent. The rate of growth is expected to ease further in the year to March 1997. Business confidence in Canterbury fell to a five year low in June 1996.
The local economy is estimated to have grown at a slightly slower rate than the national economy in the last financial year. Christchurch's Gross Regional Product (GRP) is estimated to have increased by 1.8 percent compared to 2.8 percent for New Zealand in the year to March 1996.
This result contrasts with the very high levels of growth seen in the previous three years when the Christchurch economy out performed that of the country as a whole.
Employment
Business numbers and employment have increased strongly since the recession of 1991/92.
Total employment increased by nearly 5 percent during 1995/96.
Registered unemployment in Christchurch has stabilised over the last year after a sustained period of decline. Youths aged 15-24 years, Māori, and Pacific Islanders are all still heavily over represented among the unemployed.
While full time employment has increased strongly, up 17 percent since 1992, part time employment has increased at more than twice this rate, up 37 percent over the same period.
There has also been a marked increase in the level of self employment within the economy.
External Analysis: Industry
A small research group carried out an analysis of the markets in which the Library operates3
A standard model for industry analysis was used, adapted for a non-profit organisation. Key forces analysed were the threat of new entrants, the supplier industry, user groups, funding groups, new substitutes and relations among existing organisations.
Four key market areas were explored:
Recreation
Provision of information
Culture
Education and life-long learning
Trends and Opportunities
Key trends were identified by focusing on the recent past, the present and the future in turn.
Co-operation
Numerous opportunities exist for co-operation between libraries in Christchurch. In particular, a greater understanding of the reference work undertaken by other libraries would help Canterbury Public Library pro-actively respond to the changing requirements imposed by the education market.
University libraries are involved in consortia buying. An opportunity exists for Canterbury Public Library to be involved in this type of buying for electronic products such as EBSCO Host. A consortium could be formed with other major public libraries or with some tertiary libraries.
Cultural Trends
Christchurch is a city that is increasingly being known for celebrating itself through festivals.
Events are numerous and often highly successful and the Library has a role to play, both by providing related resources and acting as a place for promotion and marketing of events. There is room for the Library to have a greater role through liaising with festival organisers.
Education
Several significant trends are apparent. The current curricular focus on resource based learning has encouraged students to seek information from diverse sources. Many students see the local public library as the library of first resort, despite the presence of academic libraries at tertiary institutions and the traditional strong support the National Library provides to schools.
The new national qualifications framework has encouraged the growth of private education providers. Many of these organisations do not, and will not, have adequate library or information resources. Students at these institutions have few options other than to use the services public libraries provide.
Electronic Information and Resources
The trend to digitisation of resources is well documented and widely recognised.
Major encyclopedias, indexes, newspapers and serials are becoming more readily available in electronic form. And of course, there is the Internet. Libraries, including Canterbury Public Library, are choosing to provide access to many electronic resources. All of this comes at a significant cost in provision of equipment, use of the Internet, cost of accessing databases etc. There is a clear trend towards charging for at least some of these services.
New Zealand public libraries are positioned to become the information arms of their parent local bodies. Auckland Public already has this role well underway and Dunedin Public is poised to use the Dunedin City Council Intranet to carry out the same function.
Human Resources
Increasing casualisation of the workforce has implications on demands for training, the necessity of thorough internal communication of policy and procedure and the opportunity to benefit from changing (more flexible) patterns of working hours.
The increasing specialisation of some library work vs the generalist nature of many positions will require careful analysis of who the Library (and the profession) is employing and training. Will all specialist positions necessarily (or adequately) be filled by librarians trained in our current vocational training programmes?
Upskilling is becoming an imperative: this may require an organisational response in terms of, for example, greater and more flexible provision of study leave.
Information Brokerage/Packaging
Though not yet a trend, the concept of information brokerage is widely discussed. It is certain that disintermediation (self service) will have some impact on information provision from the Library if its only role in this area is seen to be sourcing and passing on information. Conversely brokerage and packaging, by providing appropriate information gateways, authentication and verification, and presenting information in an appropriate way, offers a long-term opportunity to reintermediate.
The Library as a Community Place
With the increasing pace of the Information Age, increasing immigration and the increase in socio-economic boundaries between communities within Christchurch, the Library has a role as a place of community focus.
The Information Age can be seen as eroding the traditional notion of the community. Increasing use of technology diminishes the need for interpersonal contact and the inequality of access could mean further boundaries between the information "rich" and "poor". The Library has a role in educating and providing access to new technology. Without home access many could be left behind in the "information society". Public libraries are uniquely suited to make the new technologies available to everyone upholding the democratic principle of equal access for all.
Recreational Trends
A New Zealand-wide trend is the increase in a "cafe society". People are inclined to spend more time relaxing in the inner city and no longer see it only as a place to shop but as a place which complements peoples' lifestyles. As the city attracts citizens as a recreational destination the Library benefits by the custom of citizens who would not necessarily come to the city for the Library alone.
Remote Customers
Service to remote customers has grown in recent years. Telephone and fax delivery of information is now a regular component of service. Requests arrive by email and could easily be coming as requests from web page forms (if provided). Some overseas libraries are already providing this latter service. Issues such as what services should be provided to remote customers, whether all remote service should be charged for or should non-members (or non-Christchurch City Council ratepayers) only be charged need resolution.
Responsiveness to Market Trends
Providers of tertiary education and lifelong learning are, increasingly, identifying niche markets in which to gain market share of students. This results in rapidly-devised courses being established, without adequate consideration given to supporting information resources. All the tertiary institutions we spoke with indicated that this was the future direction of their organisations' marketing.
The Library will need to be able to respond quickly to students' changing needs and develop closer partnerships with the educational institutions to foster a clear understanding of responsibilities and resources.
Users
With the change to resource-based learning and the increasing impact of technology, the needs of our users are becoming increasingly sophisticated. Students and business people, in particular, have greater knowledge and expectations of resources and people expect a higher level of customer service. Also, Christchurch is becoming increasingly multi-cultural and we need to be aware of the special needs of these community members.
External Analysis: Customers
External market research of impressions of Canterbury Public Library by users and non-users was carried out in June-July 1997.4 The research objectives included gaining an insight into the role of the Library in the community and customers and non-users' information choices, identifying some general perceptions about the Library and gaining an understanding of the barriers that exist in relation to people using the Library. A further objective was to identify possible areas for future research.
Four focus groups, attended by 36 Library users and non-users, containing a broad cross section of the general public were recruited at random at various locations around Christchurch.
Key findings
Most participants had high levels of awareness and appreciation of Canterbury Public Library and the service it provides for Christchurch.
This appreciation, and a strong sense of community ownership, existed regardless of an individual's Library patronage profile and was observed to be as high among current non-users as it was among users.
Personal opinions with regard to motivations, barriers and opinions of the service, however, varied greatly, with current users least critical of services provided.
In addition, the image of the Library, and perception of the service, are currently confused and often contradictory. This again was dependent upon an individual's status as either a current user or non-user, with current users perceiving the Library in a far more favourable light.
The challenge the Library faces is how to be all things to all people. Developing a strategy more appropriate to non-users will always run the risk of alienating existing customers and vice versa.
A decision to visit the Library would appear to be based on a thought filtering process (not necessarily a conscious/current thought process).
Perceiving a need
Do I enjoy reading?
Do I want to read?
Do I need to find out about something?
Do I want to find out about something?
Meeting that need, is the Library an option?
Can the Library tell me what I want to know?
Can I get the information elsewhere?
Do I like to borrow books?
Do I enjoy reading in the Library?
Do I enjoy going to the Library?
Do I know what to do when I get to the Library?
Do I want to be seen in the Library?
Would I rather go somewhere else?
Responses to this filtering process depend on personal interests and motivations, and perception of the service the Library has to offer.
Ideas and suggestions for future development had a strong "user friendly" flavour, plus requests for greater advertising and promotional activities to encourage use. Themes, ideas and reading suggestions were common requests, demonstrating a desire for the sharing of ideas and guidance.
Suggested service improvements came from current users and non-users alike. It was noted that some older current users expressed resistance to radical change and were content with the current standard of service delivery. Some suggestions implied an overall requirement for making the Library a more welcoming and user-friendly environment. Many saw an increased role for staff in the future, providing user training and guidance. Additional services and facilities were suggested as a means to attract a wider audience and some perceived that the Library could provide a better service for parents.
Current promotional materials were poorly recalled, even among frequent users. This suggests that some consideration is required concerning current distribution methods for these materials. At best the current materials were observed to be interesting to keen readers only.
In order to fulfil a greater role with regard to an individual's information, recreation and education needs, consideration should be given to how to:

Generate/identify an individual's need or desire for a Library service(s).
Ensure that the Library is a recognised and valid option for fulfilling the need/desire identified.

Looking beyond the millennium, opinions varied as to the future for the Library. Many visualised a stark, technology-led, computerised environment, some saw the Library becoming a museum for books some felt a time would arrive when libraries would be obsolete. However, for many, the desire to read a book, and the romance that existed as part of this experience, was irreplaceable.
Previous Customer Research
Canterbury Public Library has participated in the Council's Annual Survey of Residents since 1992. The same data has been collected each year to find out about the frequency of use of libraries, purpose for using them, satisfaction levels and perceived value for money.
The survey results have shown consistently high levels of satisfaction, particularly with the range of material available, and with the helpfulness and politeness of staff. Trends include an increase in use of community (suburban) libraries, and an increase in use by people under the age of 18.
In addition to the Resident's Survey, 10 other surveys have been recorded as part of the Library's Research Index . Eight of these were in-house. They cover a range of service issues, for example: Spreydon Library conducted a survey to ascertain interest in specific Council services being available through the Library (1997); a survey of use by tertiary students was carried out in the Central Library in 1994; a survey was conducted in Central Library in 1992 to gain information about use of the library, with particular interest in OPAC use this survey was repeated in the North West area; a survey of readers of Connect was done in 1993 to gauge usefulness of this publication.
Two pieces of research in particular were used for information in designing the customer research for the strategic planning process.The first, An Investigative Study into the Service Quality Received from Central Canterbury Public Library ( P W Jones, 1995) highlighted the need for service standards to improve service quality, more consultation with customers about their needs, and an evaluation of the Library's communication with its customers. This survey has been designed to enable it to be repeated to gain comparative data, and this will be considered after the Central Library refurbishment is completed.
The second, User/Potential User Survey: Hours of Opening (Gary Nichol Associates, October 1996) was commissioned to find out about satisfaction with Reader Only services on Sundays and preferred hours of opening. The results showed that approximately half of those customers surveyed were not aware that the Central Library was open on Sunday, and also highlighted the need for a campaign to increase awareness of the range of services offered by Canterbury Public Library.
The focus groups used as part of the development of the Statement of Strategic Directions were a first step towards increasing customer consultation using qualitative methods. An opportunity was taken during these sessions to gain reaction to some of the Library's promotional materials, but a more thorough analysis is still required.
Tangata Whenua
As part of the process of consultation in the development of its strategic plan the Library has looked at ways of entering a partnership with Tangata Whenua to give effect to the principles of the Treaty of Waitangi. Following formal contact and discussion between the Library and a Ngai Tahu representative a Steering Komiti is to be established with membership from local Māori and the Library. This will give formal recognition to the Library's commitment to the partnership principle under the terms of the Treaty of Waitangi.
The publication of Te Ara Tika II: guiding voices, in mid-1997, was timely for the Library as it considered the consultative and partnered development it must take to give effect to the principles of the Treaty. Te Ara Tika II presents Māori opinion on libraries and information needs and, together with Part I (1993), which documents the views of the library and information profession in relation to biculturalism and services to Māori, they provide an invaluable resource on which to build this Library's own direction.
Key issues that dominated the discussions that formed Part II are those relating to access and information literacy, a need to focus on preschool to teenage Māori literacy and library use, and a need for more Māori staff working in libraries.
Other Consultation
During the process of consultation the views of numerous other information professionals, local libraries and users of Canterbury Public Library were sought.
Unit Managers and interested City Council staff contributed ideas on their information needs and preferred options for access and delivery. They also considered the role that libraries could and should have in the Christchurch City Council to meet those needs. Needs are clearly diverse between different Units of the Council and similarly the degree and success of the management of in-house resources varies. Overall it was, however, recognised that the Library could have a valuable role within the Council, providing cohesive collection and maintenance of individual Unit information resources, enhancing access (particularly to electronic resources) and improving knowledge of available information. Face-to-face contact with either librarians or information specialists was seen as preferable to a remote service.
Discussion with members of the Community Services Committee of the Christchurch City Council and some other interested city councillors, about their views of future library services in the city brought a wide range of ideas. Many related to the Library continuing and extending its role as a central location in local communities for example, providing more space for people doing study and homework, having a greater role in supporting literacy from preschool through to adult. Continuation of the preservation and heritage functions was stressed, along with suggestions for innovative programmes to support more local and oral history.
A very well-supported meeting with representatives from other local libraries endorsed that there still exists a high level of co-operation and collegial support amongst local public, educational and specialist libraries. There is clearly a willingness to share information and investigate possible resource sharing in areas such as meeting needs of secondary and tertiary students; shared access to electronic resources; avoiding unnecessary duplication of resources; standardising adjoining library systems' membership criteria and improving opportunities for broad networking.
A postal survey of all members of the Friends of the Library indicated a high level of satisfaction with current Library operations. However, it also identified suggestions for improvements and extensions to future services and facilities. Many respondents recognised a growing reliance on, and need for understanding of, computers and information technology. More education in the use of computers (including our OPACs) was seen as a priority. Uncertainty was expressed by many people when asked about the future use of the Library: some felt that its "traditional" role is under threat from other media and changes in society and leisure.
Whilst the generally supportive views expressed in this survey were reassuring, the ideas for improvement were also very useful the respondents are clearly heavy users of the Library and very familiar with the "public face" of its collections, services and practices.
Organisational Review
As a result of recommendations made in Value in the 21st century, an organisational review conducted by AIMA Training and Consultancy Services in late 1995, the Library adopted a new matrix management structure (listed below), and began appointing to the new managerial positions in early 1996. While managers influence the development of services, rather than directly controlling their delivery, the formation of workgroup and functional teams throughout the network means empowering individuals and teams to take decisions within the parameters of policy and agreed strategy.
The purpose of the changes in the structure is to ensure
Excellence in customer service delivery
Innovation and creativity in the organisation's people
A flexible, learning organisation able to respond to changing needs as the Library moves towards the twenty first century
Specifically, the desired outcomes of these changes are
Better planning, setting of standards, measurement and evaluation
Better coordination of major functions across the network
Greater emphasis and resources to information technology to meet the challenges and opportunities available
Better coordination and management of our collections and resources
Continued and improved emphasis on customers and customer service
Strengthening of service delivery through the coordinated management of the Central Library and Community Libraries in a particular area.
Management Structure
From 1996, a new matrix management structure has been put in place, and appointments made to the following positions.
Strategy Team (including the Libraries Manager)
This Team has the responsibility for the overall strategy and direction setting for the network.
Manager Collection Services
Manager Customer Services
Manager Information Technology Services
Manager Network Services
Service Delivery Team
These Librarians are responsible for an area of service points in the network.
Central Library Manager
Northeast Area Librarian
Northwest Area Librarian
South Area Librarian
Outreach Librarian
Management Team
This includes the Strategy Team and Service Delivery Team.
Functional Network Teams
Functional Teams work on the horizontal axis of the new management structure, crossing workgroup boundaries across the network. These Teams have the authority to set policy for their area of responsibility in line with agreed strategies.
Collection Services Team
Customer Services Team
Information Technology Team
Human Resources Team
Workgroup Teams
Workgroup Teams are core units of staff, either based in one location (such as a Community Library) or a section of staff performing a similar function within the Central Library or one of the support units.
Workshops
Two groups of Library staff participated in four workshops during the information-gathering phase of the strategic planning process. Team Leaders, including the Strategy Managers, formed one group, and the Staff Reference Group comprised 22 individual Library staff who wanted to participate.
The workshops were a valuable opportunity to capture input and ideas from Library staff on a number of issues relating to future directions.
Workshop 1: Mission, Values, Goals 5
The mission of the Library was viewed through its roles, of which four key ones were identified:
Recreation
Life-long learning and education
Preservation (heritage collections and Treaty of Waitangi obligations)
Gateway to information
Other roles included community cohesion, democracy, equity of access, supporting economic development and supporting culture.
Many of these roles were seen to overlap, or there was tension between roles, particularly in relation to available resources. There was seen to be a need to clarify some roles (eg where the Library acts as the primary provider, as a proxy provider, agent, facilitator or partner), and also a need to 'claim' some of the roles as uniquely our own.
To 'survive and thrive' the Library needs to identify and claim those roles that are unique to it its 'open door', free access to recreational material and preserver of heritage materials.
Using Council values, such as the Giving Value Being Valued statement, and other relevant value lists as a starting point, specific additional values were identified:
Equity of access and equity of opportunity for staff
Enabling personal and community effectiveness
Embracing the Treaty of Waitangi and manaakitanga in the organisation
Respect for the diversity of individuals and groups in the community, and for fellow staff
Integrity in dealing with customers and staff
Responsibility, accountability and ownership of our 'organisation'
The value of learning and literacy
Cultural heritage
The individual's right to know
Ability to adapt to change
Workshop 2: Customer and Non-customer perceptions 6
Participants were asked to consider the needs of two known Library users and two known
non-users in 1997 and in the future (circa 2005).
Current customers use the Library to support recreational, life-long learning, educational and hobbyist interests. There is a strong sense of value for the Library as a welcoming place and space in the community. Access to niche resources not readily available elsewhere is recognised such as the Internet, newspapers and serials, specialist materials such as motor manuals, non-commercial videos, government information, large print, local information and history, genealogical resources and ESOL resources. Also, the Library is seen to have a broad-based appeal, ranging from the introduction and encouragement of children to use libraries and read, through to provision of large print books for older readers.
Unrealised expectations mostly relate to aspects of service such as earlier opening hours, Eftpos machines and payment by credit card, a need for bilingual staff, full Internet use and access to email, electronic document delivery and home delivery, seamless network access, more personalised service and facilities such as a cafe and child-friendly facilities. Charges incurred for damaged stock are a commonly cited barrier to use, especially for parents students, the unemployed and people worried about children damaging books.
Non-users' attitudes towards the Library were expressed as: their lifestyle doesn't have space or need for the Library, they feel computer and Library illiterate, poor initial or subsequent customer service deterred use, intellectual snobbery (it can't be good if it's free; the books are dirty…), the hours, location, parking are all inconvenient, extended loans and charges for damaged stock are off-putting, there is inadequate study space, the Library environment and staff are daunting, alternative sources are preferred, there is a lack of information about what's at the Library, a lack of home/business delivery of materials, a lack of a well-promoted remote service and the Library looks over-used, too busy, with too much queuing.
Looking ahead to around 2005 participants 'visioned' the library through the eyes of the same four individuals.
The following needs, uses and expectations were identified:
Still a need for books to read in bed
Remote access and delivery, refinement of reference enquiries (eg using video phones)
Aging population
Services: cashless transactions, drive through collection points, longer opening hours
The Library as a community space for information (eg community databases), culture, meeting, a "quality destination"
Supporting social trends: eg aging population (such as increased home services), workforce re-training
Issues for the Library: charging for added-value services which offer greater convenience; rationalisation of services to some user groups (eg tertiary students)
Non-customers in 2005 were expected to see the Library as unnecessary. They could access their information via the Internet, or would not have time for the Library.
Workshop 3: Strategic Directions 7
Workshop participants examined a list of common themes emerging from the consultation and research especially those themes that appeared to be new or contestable.
A SWOT Analysis identified the key strengths, weaknesses, opportunities and threats to the Library's operation and service.
Strengths and weaknesses were readily identified and perhaps best captured in the slogan, "We put the IT into commitment". A committed staff and customer-base and overall good facilities featured highly as strengths. Lack of long-term planning and the uncertainty of our fiscal and political support were some of the main weaknesses.
Opportunities included maximising expertise in information management and information technology, ensuring a role as a community place and outcomes from the Suburban Service Delivery report. Threats included the uncertain political climate and the bypassing of libraries because of independent use of information technology, and the perception that libraries are redundant. Bridging both opportunities and threats were some human resources issues: trends such as increasing casualization and the balance between generalists and specialists were identified.
Five key themes dominated these workshops.
Education and lifelong learning
The Library has, indeed must have, a role in supporting students' educational needs. They are important current and future Library supporters. There was seen to be a need to analyse needs and expectations of the various education sectors and formulate service level agreements. Working in partnership with providers and the likes of National Library and the NZQA is desirable.
Culture
The Library already has a well-defined and central role in providing and supporting traditional (middle class) culture. Increased (electronic) access to heritage materials, taking more promotional initiatives and working in partnership with other providers of cultural resources, cultural groups and organisers are all identified as future directions.
The Library must address its bi-cultural responsibilities, both as an organisation and by raising the understanding and confidence of individual staff in working with Māori resources and people. Education and training of staff are the top priority.
The Library as a community place
The Library has a developing role as the information arm of the Council and this can be seen an opportunity to extend our customer base through using pre-existing skills and expertise. Services for the aged must grow given the demographic trend. Similarly the need for improved housebound services will grow and partnership with other community groups should be looked at. There is a need to refocus on literacy. Expansion of the Library's presence and services further into the community is necessary, along with safeguarding the Library as a destination in its own right, as a place to sit, read and socialise.
Information
We need a pro-active approach to information provision and look at customised services in the future such as packaging for targeted groups (eg Council), remote users, specialisation (and possible partnership) in areas like health and business, and making more information available electronically.
Recreation
This was recognised as being as a key area of our business, offering an enormous range of recreational opportunities to users from surfing the internet to the Bestseller collection. Measurement of outcomes in this area of business is difficult. Ideas for future directions were various none stood out as imperatives, most were innovative ways of diversifying our services.
Workshop 4: Organisational Vision 8
Key elements of the draft Plan were presented and a visioning exercise was undertaken, to check that the perceived vision for the Library matched the objectives and programmes described.
Vision 2007
Our people will
Bring customer focus, information technology ability and interest, educated and open minds
Need appropriate on-going training, to enable high quality services, team support and feedback, professional mentoring, be well informed
Get opportunities for development, excellent remuneration, supported with resources to
do the job
Give excellent customer service, value to their team, effective communication, a commitment
to upskilling
Feel valued, proud of the organisation and enjoy work,, challenged and stimulated and have their creativity and innovation encouraged
Our customers will
Value the Library, feel it is theirs and not be intimidated by procedures and/or
unapproachable staff
Receive courteous, non-judgemental, professional service delivering accurate and appropriate resources and information
Be well-informed and know what the Library offers (and doesn't offer)
Be motivated to use the Library (remotely or as walk-in customers) and return again and again
Our resources will
Provide quality resources that will excite and delight our customers
Include buildings that satisfy the wide-ranging needs of the community
Include collections that are well developed, cared for, adequately housed and easily accessed
Include a wide range of formats electronic, print, audiovisual etc
Be funded to meet expectations and needs of customers and staff
Ensure equitable access
Our services will
Be flexible able to respond to changing needs of individual customers
Be clearly promoted and renowned for excellence and innovation
Reflect the community's composition and interests
User-friendly, whether by remote access or face-to-face, delivered with care for the customer (easy to use etc)
Consistently offer equitable access and quality service
Suggested Initiatives
A wide range of ideas for initiatives and projects were generated at the series of in-house workshops run during the planning process. Many of these have been incorporated into the Objectives. As managers and teams work on developing the strategies and programmes required by the Objectives these initiatives will be reconsidered. They are listed below, in no particular order. Reference should be made to the complete workshop and consultation summaries to get a full impression of ideas generated.
Information
EFTPOS and smart card facilities
Full Internet access and public email facilities
Electronic document delivery
More OPAC facilities
Services to Council
Services to businesses
Web developments
Electronic publishing of information
Specialised information collections and services in, for example, areas such health and music
Librarians as "intelligent agents"
More promotion of our resources via our Home Page
Education
Formal service level agreements with education providers
Contracted provision of user education
Development of tailored resources for education resources
Liaison committee with National Library and schools
Refocus on literacy at all levels
Library visits to Kohanga Reo and Kura Kaupapa
Homework centres
Community
Increased services to special needs: aged, housebound, rest homes
Safeguard the Library as a place to go - a "quality destination"
Cafe
Longer opening hours
Community information networks
Better access or disabled
Review membership procedures and parameters
Multicultural resources and readers advisory
Child-friendly facilities
Meeting rooms available for community groups
Creche facilities
Better services for Māori customers
Culture
Oral history initiatives looking towards the year 2000
Repository for all Council research
Take more bicultural initiatives
Spaces for displays
Recreation
Store front libraries
Drive-by collection and returns points
More self-issue facilities
Computers with a recreational focus for 'Net surfing
Audiovisual viewing and listening facilities
Dial a story
Home delivery
Support for and involvement in festivals
Space for promotions and events
Customers' borrowing record retained for their use
Sell prepaid addressed envelopes for easy return of items
Reduce loan period for quick turnover items such as magazines
Staffing
Bi-lingual staff
Job exchanges and job swaps with other libraries
Employ people on a project basis
Review staffing levels
Clarify what librarianship, as a profession, means in the future
Improve staff attitudes to customer input
Funding and Management
Review and modify collection development policy
Change the Library's name to reflect Christchurch, information and service
Market and brand the Library
Rename the Library a "resource centre"
Guard the public's "right to know"
Demystify our policies and procedures
Appendices
Appendix 1 Strategy Audit
Appendix 2 Industry Analysis
Appendix 3 Environmental Audit
(i) Environmental Policy & Planning Unit Data
Appendix 4 (ii) Department of Statistics Data
Appendix 5 Customer Research
(i) Opinions Market Research Report
Appendix 6 (ii) Research Report by Gary Nicol
Appendix 7 (iii) Research Report by P W Jones
Appendix 8 (iv) Other Research Consulted
Appendix 9 Corporate and External Consultation (i) Consultation with Christchurch City Council Unit Managers
Appendix 10 (ii) Meeting with Christchurch City Council Community
Services Committee
Appendix 11 (iii) Meeting with other local libraries
Appendix 12 (iv) Survey of members of the Friends of the Library
Appendix 13 In-house Workshops
(i) Mission and Values
Appendix 14 (ii) Customer Analysis
Appendix 15 (iii) Strategic Directions
Appendix 16 (iv) Organisational Vision
Appendix 17 Strategic Planning Process Plan prepared by Insight Consulting
Appendices are available for consultation in the library.
Contact the New Zealand Collection, Canterbury Public Library, telephone (03)379-6914 ext 7861.
Bibliography
[1] Statistics New Zealand, 1996 Census of population and dwellings, (Express Stats, July 1997)
[2] Environmental Policy and Planning Unit, Christchurch City Council, Libraries' Strategic Plan: environmental audit, (April 1997)
[3] Canterbury Public Library Industry Analysis Research Group, Canterbury Public Library Strategic Analysis. Industry Analysis, (June 1997)
[4] Opinions Market Research, A market research report for: strategic plan development: impressions of Canterbury Public Library from users and non-users: prepared for Canterbury Public Library, (July 1997)
[5] Missions, Values, Goals workshops, held on 28 and 30 April 1997
[6] Customer workshops, held on 22 and 23 May 1997
[7] Strategic Directions workshops, held on 16 and 17 June 1997
[8] Organisational Vision workshops, held on 7 and 8 July 1997
Acknowledgements
The Project Sponsor, Sue Sutherland acknowledges the participation and contribution of the following people to the Strategic Directions Project.
Steering Committee
Anne Anderson, Collection Services Manager
Glenda Fulton, Customer Services Manager
Erina Parks, Network Services Manager
Sue Sutherland, Libraries Manager
John Truesdale, Information Technology Services Manager
Project Managers: Adair Bruorton, Debbie Dawson
Project Consultant: Teresa Thorp, Insight Consulting
Administrative support: Adrienne Lorimer
Desktop publishing: Jenny Drummond
Graphic Design: Nigel Humphreys
Customer Research Group: Nicola Campbell, Glenda Fulton, Rosemary Hitt, Bill Nagelkerke
Industry Analysis Research Group: Annabel Armstrong-Clarke, Adair Bruorton, Tim Jones, Paul Sutherland, John Truesdale
Mission Statement Working Party: Diane Bargas, Jennifer Geard, Annie McEntyre, Dawn McMillan, Marion Ogier, Shona Senior
Workshop participants
Team Leaders
Anne Anderson, Chris Baxter, Beverley Blair, Barbara Clarke, Margaret Clune, Susan Coleman, Debbie Dawson, Anne Doidge, Louise Easter, Glenda Fulton, Brian Gilberthorpe, Richard Higgs, Audrey Hughes, Jean Jackson, Roberta MacLean, Elizabeth Meates, Nicki Moen, Crystal Munro, Bill Nagelkerke, Ken Ocock, Marion Ogier, Erina Parks, Gerald Perrott, Bev Prout, Erica Rankin, Hilary Renfree, Jill Richardson, Paul Sutherland, Sue Sutherland, Philip Tew, Cathy Thompson, Sally Thompson, John Truesdale, Thelma Willett
Staff Reference Group
Vanessa Andrews, Annabel Armstrong-Clarke, Diane Bargas, Gillian Calvert, Carolyn Campbell, Nicola Campbell, Glenn Coster, Rona Fatuleai, Lynette Griffiths, Sam Gurney, Rosemary Hitt, Jane Keenan, Lesley Larkin, Annie McEntyre, Dawn McMillan, Catherine Parr, Haneta Pierce, Sara Roberts, Shona Senior, Elaine Sides, Clare Taylor, Judith Wenborn