Archives bring history to life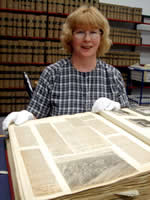 Fights in High Street, high-ranking officers caught out and the antics of sports clubs — no, not a jaunt through Monday's copy of The Press, but a dive into the archives at the Aotearoa New Zealand Centre at Christchurch City Libraries.
Information specialist Rosemary O'Neil says archives are documents that help explain culture and society as it was and as has changed over the years.
Our objective is to provide documentation of a society of Christchurch life.
One of the items currently in the process of being digitised is a typescript memoir of a police officer 19th century Christchurch. It is full of amusing incidents, Rosemary says.
At the 1906 exhibition a special constable was from the Army took his superior officer to task for walking on the grass — there was talk of a court martial. It also tells of a stand-up fisticuff fight in High Street and how it was dealt with. It all adds to the picture of who and what we were and what life was like.
The item was borrowed by the library and digitised for the permanent collection.
Gifting papers and diaries is another option for families who want to deposit material.
It depends on what the family wants to do. We're very happy to acquire local material, but we have the alternative now of borrowing material that falls within with our collection development policy guidelines and digitising and returning it. We can also provide basic advice on caring for the material and information on where to buy materials to help preserve items.
Making people aware of the value of what they've got and of long-term care of records is important, Rose, a member of the Canterbury Regional Disaster group, says.
If a business loses its records in a disaster the fail rate for businesses is something like 75 percent. Imagine the chaos.
Archives range in size and complexity, but provide valuable context for historical events, and political and social aspects of life in Canterbury.
It can be a one-page letter through something like the Canterbury Progress League which is 72 boxes through to a little file from the Germany Emergency Committee in the late 1930s supporting applications for immigration to New Zealand.
The context is useful to help build better pictures ofour ancestors, Rose says.
One of the main customer groups we have is genealogists. Family history, family diaries, papers and photographs are all part of this collection. But that's only half the story — it's clubs and societies as things like that as well. We have the minute books of the Marshlands Hall Committeee and records of the Pioneer Amateur Sports club. We might be able to flesh out information about something you may have at home.
Archives are catalogued, arranged and described for access to the public, but the wishes of the family donating material are paramount, Rosemary says.
We respect the family and the information. That's why we spend time on rights we're very aware that you need to be conscious of people's feelings before material is accessed.
First published Monday 5 May, 2008