Fragments from the official career of John Dwyer, Superintendent of Police, 1878 to 1921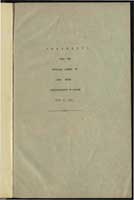 John Dwyer's 43 year policing career began in New Zealand in Dunedin in 1878. Posted around the country, his service took in Oamaru, the Otago goldfields, Christchurch, Wanganui, Napier, and his final stint was in Christchurch from 1914 to his retirement in 1921. Superintendent Dwyer was associated with many notable cases throughout his career. His memoirs focus on some of these incidents, and provide insight into policing in late nineteenth and early twentieth century New Zealand.
Unpublished, [1934]
View complete Fragments from the official career of John Dwyer, Superintendent of Police, 1878 to 1921 [ PDF 16.5 Mb]
Contents
View Pages 1 to 13 [PDF 2.2 Mb]
Foreword
My First Important Arrest
The Result Of A Dream
A Chinaman's Hoard
The Cumberland Street Fire
View Pages 13 to 27 [PDF 2.8 Mb]
The Smoked Fish Case
The Footprint Case
Oamaru Drowning Fatality
Youthful Criminals
Struggle With A Criminal Lunatic
The Goldfields
View Pages 27 to 43 [PDF 3 Mb]
The Dream Case
Arson Case
Arson Case - E. D. Smith, Wanganui
The Licensing Law
Sly Grog Selling At Taihape
Promoted To Commission Rank
The New Zealand International Exhibition 1906-07
Ned Kelly's Revolver
"Stand Off The Grass"
View Pages 43 to 61 [PDF 1 Mb]
The Saving Of Two Children From Drowning
Valedictory Conversazione
The Cashel Street Riot
Tussle With The Heavyweight Boxing Champion, Of New Zealand, Jack Lloyd
The Woodville Baby Murder Case
View Pages 62 to 70 [PDF 1.5Mb]
The Industrial Strike Of 1913-14
View Pages 70 to 77 [PDF 2.2 Mb]
The West Coast Murder
Alleged Immorality On The Banks Of The River Avon In Christchurch
Visit Of The Prince Of Wales To Christchurch
View Pages 77 to 90 [PDF 2.6 Mb]
My Final Parade Of The Canterbury Police
The Public Farewell
A Substantial Cheque
"A Few Tit-Bits" An Amusing Speech
A Few Verdicts Recorded In The Far-Off Days Of Long Ago By Coroners' Jurors
Related information
Books from our collection
Newspaper articles
Mr John Dwyer was policeman for 43 years, Christchurch Star-Sun, 31 Oct. 1947, p. 2
Mr John Dwyer, The Press, 1 Nov. 1947, p. 8
Images from our collection
Copyright and other restrictions
This material has been provided for private study purposes (such as school projects, family and local history research) and any published reproduction (print or electronic) may infringe copyright law. Please contact Christchurch City Libraries if you have any questions relating to the use of this material. It is the responsibility of the user to obtain clearance from the copyright holder.