The Canterbury Public Library art collection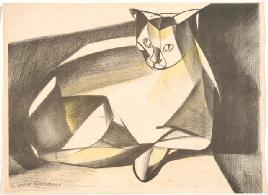 From the 1950s until the 1980s, any Christchurch library member was able to borrow artworks by a wide range of New Zealand artists.
An art-loving librarian — Ron O'Reilly
City librarian Ron O'Reilly was passionate about art, and a knowledgeable and well-connected collector in the local art community. In September 1953, he established a lending collection of 80 art prints. This was very popular with library members, and two years later the lending of original art work began in May 1955. The first purchases were The cat by Louise Henderson, and Untitled (woman with fabric) by Alison Pickmere.
Colin McCahon's Kauri tree landscape
John Stringleman, who followed Ron O'Reilly as city librarian, recalled:
Colin McCahon sent him a painting. I think from memory he gave it to him and Ron had it on the wall of his office. It was a little difficult to interpret but Ron interpreted it as a lake with reflection in the lake. He could explain it all quite clearly.
Then he must have had second thoughts about this, because one day I went into his office and there was the painting up the other way, you see. I said to him, Ron what's the story about this? Oh, he said looking a bit shamefaced, I asked Colin and it's actually a kauri tree and it goes that way! Sure enough it was clearly what it was. We had a good laugh about that on plenty of occasions.
In the 60s Ron was given two years leave of absence to act as a visiting professor to a library school in Nigeria and at that stage he had never been out of New Zealand before. He had no sort of idea about what was entailed in air travel. The day came and he was leaving Christchurch to fly to Nigeria via Auckland. We took him out to the airport and as we got ready to go, he produced his luggage which apart from his hand luggage and a suitcase, consisted of two great paintings, one a McCahon and one a Woollaston. He couldn't bear to be parted from them and he dragged these all the way to Nigeria as cabin luggage. However he got them there and got them home.
Barbara Collie takes over the collection
By the time O'Reilly left the library in 1968, the collection had grown to 125 paintings. Librarian Barbara Collie continued to purchase for the collection. It grew to 297 items and was a who's who of New Zealand artists of the time.
The paintings were for loan to library members for a month and could be renewed for up to a total of six months at one stage. Some pictures went missing. Among the disappeared canvases were two Tony Fomison works and others by Gavin Bishop, Ted Bracey, Roy Cowan, Rudolf Gopas, Pat Hanly, Richard Killeen, Colin McCahon and Grahame Sydney. Lists of missing works have been sent to art dealers over the years, but none of the works have been returned.
Colin McCahon's Tomorrow will be the same but not as this is
The Colin McCahon painting Tomorrow will be the same but not as this is was rejected for purchase by the library because it was too large. The Robert McDougall Art Gallery also rejected it as unsuitable. Ron O'Reilly was involved in a protest group of Christchurch residents, who, over the period of 1959 to 1962, set up a subscription to buy the work for the city. During part of this time the painting was displayed in the library, and later purchased for the McDougall. It remains in the Christchurch Art Gallery collection.
The collection moves to the Robert McDougall Art Gallery
Library purchasing continued until March 1981, when an inflationary art market made it impossible for the library to fund additions to the collection. The more valuable of the originals e.g. Rita Angus, Colin McCahon, Bill Sutton and Toss Woollaston, were withdrawn from lending in the 1970s and 1980s. Some continued to hang in the Central Library, but many were housed at the Robert McDougall Art Gallery. In October 2001, 115 paintings were formally gifted to the Christchurch Art Gallery. More works have been gifted since.
A special exhibition in 1989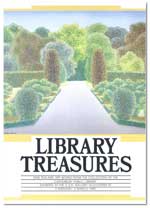 In 1989, an exhibition of works from the collection was staged at the C.S.A Gallery. Library treasures: New Zealand Art Works from the Canterbury Public Library was intended as a tribute to the vision of Ron O'Reilly. In 2009, Christchurch Art Gallery staged another exhibition from the collection entitled Ron O'Reilly: The Collector's Eye which also included works from Ron O'Reilly's private collection.
Prints continued to be bought and loaned up to about 1990, until storage space was required for Central Library renovations. The print collection was sold off in June 1995.
Christchurch City Libraries may not lend original art any more, but art continues to be purchased and made available for public enjoyment in our libraries. Many of the libraries in our network have also been given art works, sometimes as part of new building decoration. These works are collected in our catalogue.
Resources
Information on this page is derived from the article Three books and an original McCahon please on our Library 150 website