Letters, 1914 - 1920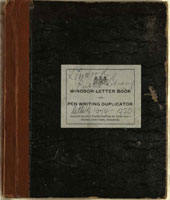 Letter book covering the years 1914 to 1920.
From a collection of material relating to the early years and development of Linwood Public Library, a subscription library founded in 1909 by the Linwood Citizens Association.
Archive 107, Series 2/1
Unpublished, [1914 - 1920]
View images of Letters, 1914 - 1920
View complete Letters, 1914 - 1920 [PDF 27 Mb]
View catalogue record for Archive 107 - Linwood Public Library
Related material
Linwood Public Library Archive - digitised material
Other material digitised from the Archive 107 collection
Linwood Public Library: The Voluntary Years, 1909-1993
History of the Linwood Public Library
This material has been digitised from the Archives and Manuscripts collection of Christchurch City Libraries.
Copyright and other restrictions
This material has been provided for private study purposes (such as school projects, family and local history research) and any published reproduction (print or electronic) may infringe copyright law. Please contact Christchurch City Libraries if you have any questions relating to the use of this material. It is the responsibility of the user to obtain clearance from the copyright holder.