The Masseydonian stretcher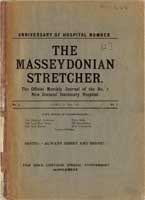 Summary The official monthly journal of the No. 1 New Zealand Stationary Hospital, Cairo, May 1916. No. 3. Anniversary of Hospital number. Contains a history of the hospital; a brief description of the sinking of the "Marquette"; and includes a complete list of officers and other ranks who worked at the Stationary Hospital for the year ending May 22nd 1916.
Collection location Archive 444, Item 1
Publication information Published
Additional information
A small collection of material relating to World War 1, collected by Oswald Norris and his family. Oswald Mark Norris served in the Canterbury Infantry Regiment, I Company, and died at Gallipoli in 1915, aged 22.
Digitised items
This material has been digitised from the Archives and Manuscripts collection of Christchurch City Libraries.
Copyright and other restrictions
This material has been provided for private study purposes (such as school projects, family and local history research) and any published reproduction (print or electronic) may infringe copyright law. Please contact Christchurch City Libraries if you have any questions relating to the use of this material. It is the responsibility of the user to obtain clearance from the copyright holder.