Cashmere Sanatorium, 1913-1933.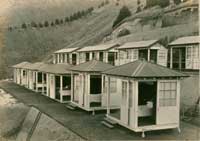 Summary Two photograph albums and 70 assorted photographs of the Cashmere Sanatorium, Fresh Air School, Fresh Air Home and Coronation Hospital taken between 1913 and 1933. One photograph album inscribed to Dr. G.J. Blackmore as Christmas gift.
Collection location Archive 887
Publication information Unpublished
Additional information
A collection of photograph albums and photographs from G.J. Blackmore. George John Blackmore (1863-1947) was the Medical Superintendent of the sanatorium from 1910 until 1929. He trained in Edinburgh, specialising in the treatment of tuberculosis, and was Medical Officer of Health in Bombay before coming to Christchurch. He retired to England.
Related pages
This material has been digitised from the Archives and Manuscripts collection of Christchurch City Libraries.
Copyright and other restrictions
This material has been provided for private study purposes (such as school projects, family and local history research) and any published reproduction (print or electronic) may infringe copyright law. Please contact Christchurch City Libraries if you have any questions relating to the use of this material. It is the responsibility of the user to obtain clearance from the copyright holder.