The North Canterbury Hospital Board : fragments of history : hospitals : tuberculosis and benevolent institutions and miscellaneous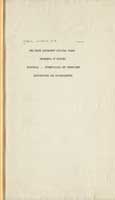 Unpublished manuscript by Winifred Norris, detailing the history of selected hospitals, orphanages, sanatoriums, and benevolent institutions, in and around Christchurch and Lyttelton.
Includes short histories of the country hospitals of Akaroa, Amuri, Cheviot, Chatham Islands, Darfield, Ellesmere, Lincoln, Little River, Kaiapoi, Kaikoura, Oxford, Rangiora, and Waikari.
Unpublished, [1942]
Contents
View Pages 1 to 23 [PDF 4.54 Mb]
Lyttelton Hospital
Canterbury Orphanage – Lyttelton
The North Canterbury and Ashburton Hospital and Charitable Aid Board
View Pages 24 to 31 [PDF 2 Mb]
Lyttelton Casualty Ward
Lyttelton Maternity Hospital
Lyttelton Casualty Dressing Station
View Pages 32 to 51 [PDF 4.3 Mb]
Christchurch Hospital
The Medical School
View Pages 52 to 72 [PDF 4.3 Mb]
North Canterbury Hospital Board
Hyman Marks Wards
Pathological Department
Dental Department
Cholmondeley Home
Massage Department
View Pages 73 to 97 [PDF 6 Mb]
Hospital Lady Visitors Association
Chalmers Wards
Influenza Epidemic
Orthopaedic Unit
Ophthalmic Department
Artificial Limb & Splint Department
Private Paying Wards
Nurses' Training School
Nurses' Memorial Chapel
Nurses' Home
New Nurses' Home
View Pages 98 to 117 [PDF 4.6 Mb]
Country Hospitals
Akaroa Hospital
Amuri Hospital
Amuri Doctor's House
Chatham Islands
Cheviot Hospital
View Pages 118 to 140 [PDF 5.2 Mb]
Darfield Hospital
Ellesmere Hospital
Lincoln Hospital
Little River Hospital
Kaiapoi Maternity Hospital
Kaikoura Hospital
Oxford Hospital
Rangiora Hospital
View Pages 141 to 144 [PDF 1 Mb]
Waikari Hospital
Charles Thomas Wilson Little, M.D.
View Pages 145 to 167 [PDF 4.8 Mb]
Tuberculosis Institutions
Sanatorium
North Canterbury Sanatorium for Consumptives
View Pages 168 to 177 [PDF 2.2 Mb]
King George V Coronation Memorial Hospital
Military Sanatorium
Upper Sanatorium
Fresh Air Home
Open Air School
Tuberculosis Dispensary
View Pages 178 to 194 [PDF 3.6 Mb]
Infectious Diseases Hospital
Bottle Lake
Infectious Diseases Hospital – Burwood
View Pages 195 to 217 [PDF 5.2 Mb]
Benevolent Institutions
"Tuarangi". Old Men's Home, Ashburton
Female Refuge – Essex Street, Linwood
St. Helen's Hospital
The Queen's Jubilee Memorial Home. Woolston.
View Pages 218 to 240 [PDF 5 Mb]
Waltham Orphanage
The Armagh Street Depot
Samaritan Home
Charitable Aid
Girl's Home, Burwood
Burnham Industrial School
View complete North Canterbury Hospital Board : fragments of history
[PDF 51.8 Mb] Warning: large file.
View catalogue record