Killinchy farm diary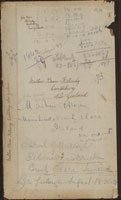 Summary Handwritten diary of farm activities and expenses on a Killinchy, Canterbury farm. The diary was started by Mathew O'Brien and continued by John O'Brien after his father's death on 5 October 1897.
Collection location Archive 967
Publication information Unpublished
Additional information
Mathew O'Brien was born in County Clare, Ireland. He married Julia Higgins on 21 February 1867 at Killinchy. In some records, Mathew is spelled Matthew. His son, John Francis, married May Winter on 18 October 1916. John Francis died in 1951. Originally digitised from a private collection, the diary is now held by Christchurch City Libraries.
This material has been digitised from the Archives and Manuscripts collection of Christchurch City Libraries.
Copyright and other restrictions
This material has been provided for private study purposes (such as school projects, family and local history research) and any published reproduction (print or electronic) may infringe copyright law. Please contact Christchurch City Libraries if you have any questions relating to the use of this material. It is the responsibility of the user to obtain clearance from the copyright holder.