Diggers' Poems by Returned Soldiers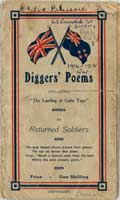 A small collection of poems by returned soldiers published after World War I.
Poems
ANZACs – Australians – A soldier's farewell – Jim – A soldier's dream of home – Leave! – Mother, we meet again – The landing – The boy who went away – Down in our Trentham camp – Gone, but not forgotten – The parting – From shovel to Sam Browne – The Poisoner's: M.M – In appreciation
View Diggers' Poems [PDF 2.2 Mb]
View catalogue record
This material has been digitised from the Archives and Manuscripts collection of Christchurch City Libraries.