Christchurch and suburban directory for 1879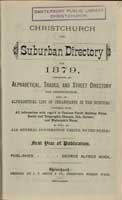 Summary Described by the publisher as comprising an alphabetical, trades and street directory for Christchurch, also an alphabetical list of inhabitants in the suburbs, together with all information with regard to customs tariff, railway fares, postal and telegraphic charges, cab, carters', and watermen's fares, as well as all general information useful to the public.
Index to content
Index to advertisers
Cartage fares
Watermen's regulations
Regulations for licensed Porter
Canterbury Postal Guide
Electric telegraph
List of telegraph stations
Custom tariffs
Court fees
Railway fares
General Government directory
Societies, Trading companies
Alphabetical listing by surname: Abbott to Klingenstein
Alphabetical listing by surname: Knapman to Zein
Alphabetical listing of businesses and trades.
Alphabetical listing of streets: Aldred Street to Horatio Street.
Residents are listed by location on street.
Alphabetical listing of streets: Kilmore Street East to Worcester Street West.
Residents are listed by location on street.
Alphabetical listing by residents' surname within alphabetical suburb listing.
Listed suburbs are: Avonville; Bingsland; Carlton Place; Merivale; North Town Belt; Papanui Road; Phillip's Town; St. Albans; Borough of Sydenham.
Advertisements
Collection location ANZC Research Collection
Publication information Christchurch [N.Z.] : George Alfred Buck, 1879.
Related pages
Information on directories from the Family History guide
This material has been digitised from the collection of Christchurch City Libraries.
Copyright and other restrictions
This material has been provided for private study purposes (such as school projects, family and local history research) and any published reproduction (print or electronic) may infringe copyright law. Please contact Christchurch City Libraries if you have any questions relating to the use of this material. It is the responsibility of the user to obtain clearance from the copyright holder.