The Southern provinces almanac, directory, diary and year-book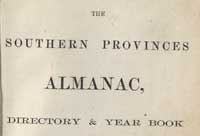 The Almanac was published annually from 1853 to 1892. Christchurch City Libraries has a set covering the years 1863 to 1892. Originally the Almanac covered a number of provinces, but from 1865 the Almanac concentrated on Canterbury.
The Almanac includes a review and commentary on the events of the preceding year. It contains listings of businesses, associations, central and provincial government officials and departments; and a trades and occupations directory. As well as Christchurch and Lyttelton other Canterbury towns are listed. Includes postal, port, customs and other regulations; army lists; details of religious bodies, charitable organisations and various societies.
View digitised items
View catalogue record
Related information
Information on directories from the Family History guide
Note: Christchurch City Libraries will be digitising our set [1863 to 1892] over the next few years.
This material has been digitised from the collection of Christchurch City Libraries.
Copyright and other restrictions
This material has been provided for private study purposes (such as school projects, family and local history research) and any published reproduction (print or electronic) may infringe copyright law. Please contact Christchurch City Libraries if you have any questions relating to the use of this material. It is the responsibility of the user to obtain clearance from the copyright holder.