New Brighton Pier
Welcome to a photo tour of the Christchurch Pier construction process, which displays images from the first day of construction to the official opening of the new Christchurch Pier. This tour includes more than 350 full-colour images detailing each and every significant step in the construction process, at all times of the day and in all types of weather.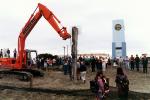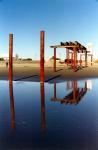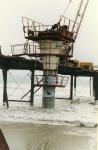 How to use this collection
Start the tour at the beginning of the building project. Click on a thumbnail image to view the full size image or choose the next or previous links at the bottom of each page to view more thumbnails.
For more information on the old and new New Brighton piers, please refer to the Local History Collection held at New Brighton Library or try a subject search on New Brighton Pier on the Library's catalogue.
Acknowledgments
All photographs were taken by Peter Seymour, a resident New Brighton photographer.
Images may not be reproduced or used for commercial purposes without permission Christchurch City Libraries.