Albert Ronald Guthrey 1916 - 2008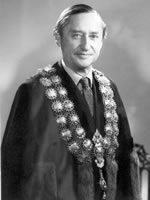 Albert Ronald Guthrey
Ron Guthrey passed away on September 8, aged 92. He died a few hours after his wife, Mary, aged 91.
Born in Rawene, Hokianga on January 15, 1916, Guthrey was a councillor from 1944 to 1968, and from 1968 to 1971 served as mayor.
The Guthrey family is a well-known Christchurch family, having established Guthrey Travel and Guthrey Coachlines, among other businesses. 
Ron Guthrey fought in Egypt in the 20th Battallion during World War 2 and lost a leg in action. He was wounded at Belhamed, and lay on the battlefield until a German burial party in a captured New Zealand truck found him. In hospital some time later he learned he had been awarded the Military Cross - his parents sent him a newspaper clipping containing the news.
Educated at Waitaki Boys' High School, Guthrey was entrpreneurial from a young age, at one stage instituting an insurance scheme for caning. He charged a shilling a term and paid out a penny a whack. The scheme came unstuck when a contingent of boarders staged a sleep in and were disciplined accordingly.
He was strong supporter and closely involved in the development of the Lyttelton Tunnel Road, and the Christchurch International Airport.  Mr Guthrey was the chair of the Airport Committee at the time of the opening of the new terminal building in 1960.
A Christchurch Press article described his maxim as "good-will is more lasting than profits".
He is remembered for two main controversies, mainly the "road through the park proposal" which would have seen Harper Avenue diverted to connect with Salisbury Street.
Guthrey also courted controversy when he remove a placard from the Cenotaph on Anzac Day, 1970. It had been placed by the Progressive Youth Movement, and read "to the victims of fascism". He condemned the act as an insult to the war dead.
The opening up of Hagley Park through the Armagh Street bridge, the Botanic Gardens car park, and use of the "toast rack" - an electrically-powered cart with commentary for Botanic Gardens tours - were some of his achievements.
But he was also responsible for the motorway development, the first flyover (at the Colombo-Moorhouse intersection), the first parking building, the saving of Mona Vale for the city, and the beginning of local body amalgamation.
Read the Christchurch City Council media release:
More information