The New Zealand Exhibition dog show.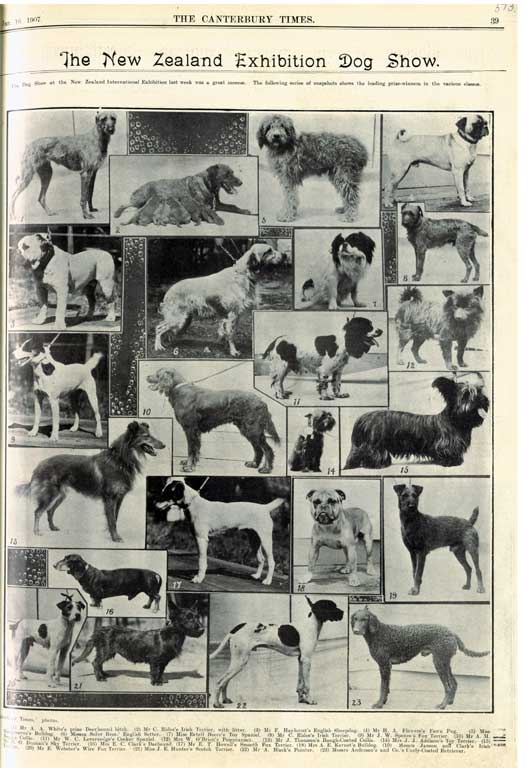 Caption: The New Zealand Exhibition dog show. (1) Mr A. A. White's prize Deerhound bitch. (2) Mr C. Rides's Irish Terrier, with litter. (3) Mr F. Hayburst's English Sheepdog. (4) Mr H. A. Flowers's Fawn Pug. (5) Miss Hargreaves's Bulldog. (6) Messrs Soler Bros.' English Setter. (7) Miss Estell Beere's Toy Spaniel. (8) Mr C. Rides's Irish Terrier. (9) Mr J. W. Spence's Fox Terrier. (10) Mr A. M. Begg's Collie. (11) Mr W. C. Leversedge's Cocker Spaniel. (12) Mrs W. O'Brien's Pomeranian. (13) Mr J. Thomson's Rough-Coated Collie. (14) Mrs J. J. Addison's Toy Terrier. (15) Mr R. O Duncan's Sky Terrier. (16) Mrs E. C. Clark's Dachsund. (17) Mr E. T. Howell's Smooth Fox Terrier. (18) Mrs A. E. Kernot's Bulldog. (19) Messrs Janson and Clark's Irish Terrier. (20) Mr E. Webster's Wire Fox Terrier. (21) Miss J. E. Hunter's Scotch Terrier. (22) Mr A. Black's Pointer. (23) Messrs Anderson's and Co.'s Curly-Coated Retriever.
Description: The Dog Show at the New Zealand International Exhibition last week was a great success. The following series of snapshots shows the leading prize-winners in the various classes.
[1907]
Source: Canterbury Times, 16 Jan. 1907, p.39.