Official programme produced under the direction of the Entertainment Committee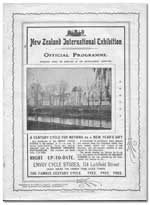 Includes the programme for an orchestral concert and other events on 24 January 1907, a brief programme of events for the period January-March 1907, a list of daily attractions, and the names of the musicians in the Exhibition Orchestra.
Published by W.E. Knott, Christchurch, 1906.
View Official programme [2.5Mb]
Related pages