Mission of the Britomart at Akaroa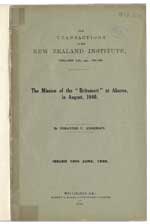 The Mission of the "Britomart" at Akaroa, in August 1840.
By Johannes C. Andersen.
This paper was initially read before the Historical Section of the Wellington Philosophical Society in 1919. The article provides an account of the English ship the Britomart, which was sent to Akaroa in 1840 in order to have a British presence in the region before the impending arrival of the French colonists.
Reprint from Transactions of the New Zealand Institute volume LII.
View Mission of the Britomart at Akaroa [2.6 MB PDF]