Christchurch Writers' Trail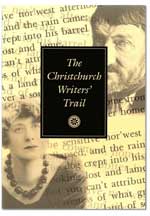 Edited by Gordon Ogilvie.
The Canterbury Branch of the New Zealand Society of Authors laid 32 writers' plaques in various parts of Christchurch. This booklet features brief writers' biographies and photographs, and includes a map to help you find the plaques commemorating each writer.
All of the writers featured have a close connection with Christchurch. The booklet and plaques honour the literary talent of our town and province.
View Christchurch Writers' Trail [2.8 MB]
Contents
Introduction
Writers' biographies
Other Christchurch and Canterbury writers
Locations of writers' plaques

William Pember Reeves
Jessie Mackay
Arnold Wall
Blanche Baughan
Johannes Andersen
Alan Mulgan
Esther Glen
Oliver Duff
D'Arcy Cresswell
Monte Holcroft
James Courage
Dorothy Eden
John Summers
Errol Braithwaite
Mervyn Thompson
A. K. Grant
Sue McCauley
Gavin Bishop
Fiona Farrell
Steven Eldred-Grigg